Cherry G81-8000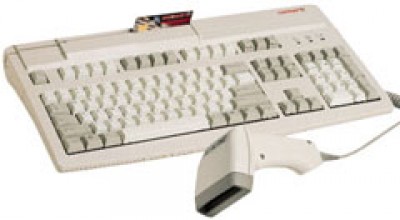 The Cherry G81-8000 series is an advance keyboard performance line that accepts magnetic stripe card and barcode reading.
---
The Cherry MultiBoard G81-8000 keyboard is an incorporation of an input device, a magnetic stripe card reader and a smart barcode decoder. The swipe reader conforms to the ISO 7812 standard thus ensuring quality reading capabilities on information contained in the card. The barcode decoder is an optional choice for the merchant. This might be wands, laser scanners and CCD scanners.
Regardless of the multiple devices incorporated in the Cherry G81-8000 keyboard system only one port is used. Data transfer is transmitted from the keyboard to the computer system through the keyboard port.
The Cherry G81-8000 input system offers not just a simple data entry device but a powerful integrated system with no additional software needed. It is nicely designed and different layouts are optional for international use.
---
Specifications:
Barcode decoder
2 independent barcode interfaces
Automatic recognition and decoding of the following barcodes:
Code 39, Code 93, Code 128, Code 16k, Plessey, Industrial 2/5,Matrix 2/5, Codabar, Interleaved 2/5, Code 11, UPC/EAN/JAN
Scanned data is transferred to system through keyboard interface
Barcode reader parameters are programmable

Magnetic stripe card decoder
Capable of reading any ISO 7812- compliant magnetic stripe card
Up to 3 tracks can be read
Scanned data is transferred to system through keyboard interface
Magnetic stripe reader parameters are programmable
Technical specifications
Temperature range:
Storage temperature: -20C to +60C
Operating temperature: 0C to +50C
Dimensions:
7000 series: (L x W x H) 405 x 220 x 50 mm
(Compact version)
8000 series: (L x W x H): 470 x 220 x 50 mm
(Standard format)
Weight:
7000 series: approx. 2,050 g
8000 series: approx. 2250 g
Power supply: 5V + 5% DC SELV
Current input: typ. 35 mA
Connecting cable: approx. 1.75 m long
---
Contact Us For Details: