Verifone Omni 3350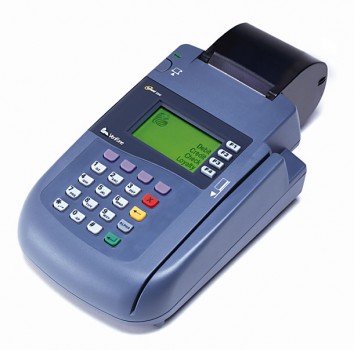 The VeriFone Omni 3350 is the perfect terminal to support full set of payment methods. It provides merchant reliable performance now and in the future.
---
The VeriFone Omni 3350 terminal features high-end qualities in transaction processing. The Verix which is VeriFone's advance operating system made processing with several applications securely possible. Its heavy duty 32-bit processor, 14.4 Kbps modem with an integrated fast thermal printer significantly minimizes processing time. The VeriFone's VeriShield security system provides file authentication tests to prevent the execution of malicious software. In addition, the VeriFone Omni 3350 terminal complies with the latest smart card standards including EMV.
With its clear ATM like interface, sufficient backlit display and large menu guides effectively minimizes input errors. The Omni 3350 saves counter space as it has an elegant compact design. It also features triple-track, card reader that accepts standard magnetic stripe cards which includes driver's licenses.
---
Specifications:
Microprocessor 32-bit microprocessor
Memory
1 Mbyte of Flash memory
(expandable to 2 Mbytes)
512 Kbytes of SRAM
(expandable to 1 Mbyte)
Display
128 x 64 pixel graphical LCD with backlighting; supports 8 lines x 21 characters
Magnetic Card Reader
Triple track (tracks 1, 2, 3), high coercivity, bi-directional
Primary Smart Card ISO 7816, 3V or 5V synchronous and asynchronous cards; EMV 3.1.1 certified
SAM Card Reader Five Security Access Module (SAM) readers: four micro modules and a second full-sized merchant card
Keypad
3 x 4 numeric keypad, plus 8 soft-function keys and 4 screen-addressable keys
Peripheral Ports
Two RS-232 ports and two telco ports support peripherals including PINpads, check readers and bar-code wands
Printer
Integrated thermal printer with graphics capabilities, 12.5 lines per second, 24/32/42 columns; paper 58 mm (2.25 in.) standard roll, single ply
Modem
High-speed dial modem (Bell 103/212a, CCITT V.21/V.22/V.22bis, 300/1200/2400/14400 bps, synchronous and asynchronous)
Protocols Application selects between asynchronous protocols (Visa 1, Visa 2 and others) and synchronous protocols (including ISO 8583/SDLC)
Security VeriShield file authentication
Physical
Height: 75 mm (2.95 in.)
Width: 146 mm (5.75 in.)
Depth, includesprinter spool: 292 mm (11.5 in.)
Weight: 1.1 kg (2.4 lbs)
Environmental
0° to 40° C (32° to 104° F) operating temperature;
5% to 90% relative humidity, non-condensing
Voltage
182-242 VAC, 50 ±1 Hz; 94-135 VAC, 60 ±1 Hz; DC input 20-34 VDC
---
Contact Us For Details: