Epson TM-U950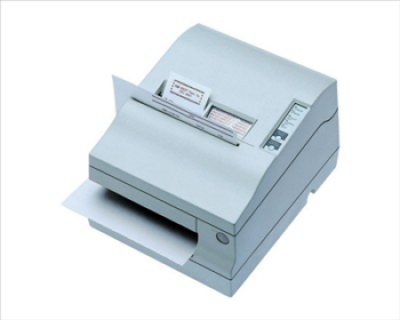 The TM-U950 is made for large volume printing processes in large scale businesses. Runs with the 2.5 station model in the TM Series.
---
The TM-U950 printer from Epson is known for its flexibility and reliability for big demands in POS systems used by numerous retailers. It is perfectly designed to achieve multifunction requirements in large POS systems.
The TM-U950 is a fast performing printer with a speed rate of 300 characters per second. It has an exceptional ability to print 88 columns. The printer supports many formats including receipts, journals and wide slips; it can also print an original and up to four duplicates.
The user-friendly design of the TM-U950 significantly reduces time in maintenance and paper reloading. Optional modules are available to further enhance the printer's capabilities.
---
Specifications:
Print Method
9-pin, serial impact dot matrix
Print Font
7 x 9 / 9 x 9
Column capacity
Receipt (Journal): 40 / 30 columns
Slip: 88 / 66 columns
Character size
1.3 x 3.1 mm (W x H) / 1.6 x 3.1 mm (W x H)
{0.05 x 0.12″ / 0.06 x 0.12″}
Character set
95 Alphanumeric characters
32 International characters
128 x 8 Graphic characters
Print Speed
311 cps / 233 cps
Data Buffer
2 KB or 32 bytes
Interfaces
RS-232C / Bi-directional parallel
Paper Dimensions
Receipt (Journal): roll paper 69.5 + 0.5 (W) x diameter 83.0 mm {2.73 + 0.02 x diameter 3.27″}
Slip: 70 to 210 x 70 to 297 mm (W x L) {2.76 to 8.27 x 2.76 to 11.69″}
Paper Thickness
Receipt (Journal): 0.06 to 0.09 mm {0.0024 to 0.0035″}
Slip: 0.09 to 0.36 mm {0.0035 to 0.0142″}, Validation: 0.09 to 0.2 mm {0.0035 to 0.0079″}
Copy Capability
One original and four copies (for slip)
Inked Ribbon
ERC-31 (purple, black)
Ribbon Life
7,000,000 characters (purple), 4,500,000 characters (black)
Power
24 VDC + 10%
Current Consumption
Approx. 1.8A (at VDC)
D.K.D. Function
2 drivers
Reliability
MTBF 180,000 hours
MCBF 18,000,000 lines
Overall Dimensions
251 x 298 x 194.5 mm (W x D x H) {9.9 x 11.7 x 7.7″} (TM-U950)
251 x 298 x 193.7 mm (W x D x H) {9.9 x 11.7 x 7.6″} (TM-U925)
Mass Approx. 5.6 kg {12.3 lb}
EMI Standards VCCI class A, FCC class A, CE marking
---
Contact Us For Details: