VeriFone Vx670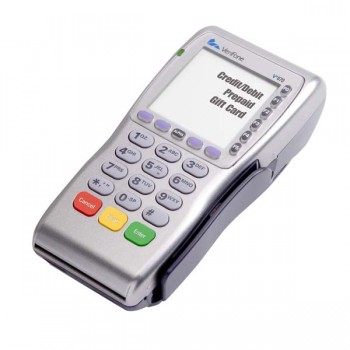 The VeriFone VX 670 is the worlds smallest all-in-one wireless handheld payment device. Offering payments anywhere makes this terminal the radical solution right into the merchant
---
This VeriFone terminal is specifically designed for restaurant payment structure. The VeriFone's patent-pending MAXui design gives largest user display for an all-in payment system. The MAXui design with its superb display resolution helps operators and customers to handle the terminal with ease.
The VX 670 presents supreme function and portability. Customer service is satisfactory being executed as new ways in payment is introduced through this device. Customers can enjoy longer time in their table as the VX 670 Wi-Fi technology can handle on-the-table payments. An integrated printer provides receipts in a whisper-like manner. Combination of high quality POS devices in this terminal solves merchant's point of sale issues.
Conforming to international standards ensures easy connectivity for the VeriFone VX 670 to other POS system. Earlier systems can be linked with the VX 670 with no complications. This terminal provides efficiency as it process credit and PIN-based debit cards.
---
Specifications:
Processor:
32-bit ARM9 microprocessor
Memory:
6 MB (4 MB of Flash, 2 MB of SRAM)
Display:
128 x 128 pixel graphical LCD with high-contrast white backlighting; supports 16 lines x 21 characters with standard font-set
Magnetic Card Reader:
Triple track (tracks 1, 2, 3), high coercivity, bi-directional
Optional Smart Card
ISO 7816, 1.8V, 3V, 5V or synchronous and asynchronous cards; EMV approved
SAM Card Reader
Three Security Access Modules (SAM) (optional)
Keypad:
3 x 4 numeric keypad, plus 10 soft-function keys and 6
screen-addressable keys
Peripheral Ports:
Single multi-port connector, which supports RS-232, USB
Host, USB Slave, and Integrated Charging
Printer:
Integrated thermal with graphics capabilities, 18 lines per
second, 24 or 32 columns; paper roll 38 mm with core
(2.25 in.) x 15M, single ply
Wireless Modem:
Supports local area wireless Wi-Fi 802.11g; WPA encryption
2.4 Ghz
Modem Dongle
Optional USB Modem Dongle for use with multi-port connector,
or use in full-featured base. Standard 33.6kbps Dial modem
(Bell 103/212a, ITU, V.21/V.22/V.22bis/V.32/V.32bis/V.34,
synchronous and asynchronous)
Protocols:
Application selects between asynchronous protocols (Visa 1,
Visa 2, and others) and synchronous protocols (including ISO
8583/SDLC)
Security:
3DES encryption, Master/Session and DUKPT key management;
VeriShield file authentication
Physical:
Length: 168 mm; Max Width of 78 mm, with reduced width of
70 mm at grip-zone; Height: 58 mm; Weight: Terminal 439 g
(0.97 lbs), Full shipping 1,219 g (2.68 lbs)
Environmental:
0 to 40 C (32 to 104 F) operating temperature; 5% to 90%
relative humidity, non-condensing
Voltage:
AC input 100-240 VAC, 50/60 Hz; DC Output 12 VDC, 2.0 Amp
---
Contact Us For Details: