Ingenico eN-Touch 1000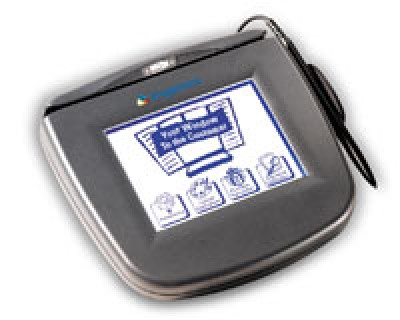 The en-Touch 1000 is a robust, easy-to-use touch screen terminal for signature capture. It offers POS transaction and numerous value-added services.
---
The en-Touch 1000 is a touch screen signature capture device from Ingenico. It handles credit, debit, EBT and check transactions. In addition, the en-Touch 1000 offers many value-added services such as electronic couponing, promotions, e-coupons, and other product marketing with less complexity.
With its touch screen feature and clear display, customer interfacing is easy. The LCD provides detail clarity best fitted for promotional fields. Features "high tech, high touch" solution where consumer's can choose between an electronic pen or their finger as preference in operating the en-Touch 1000.
The en-Touch 1000 comes with an optional magnetic stripe reader. Frequent contact with the en-Touch 1000 touch screen is protected by a specialized glass thus eliminating scratch and damage to the screen.
---
Specifications:
Display
VGA (320 x 240) backlit graphics LCD
Dimensions are 4.5″ x 3.4″
Monochrome
Signature area is width of screen and 1″ high
Digitizer
Electronic static pen touch digitizer with 385 DPI resolution
User can interact with screen via attached inkless electrostatic pen or capacitive finger touch
Memory
Standard memory is 512Kb flash and 128Kb SRAM
Flash memory is upgradeable to 1.5Mb for additional application functionality and extra screen definition
Card Reader
Bi-directional magnetic stripe reader
Dual track: (1 & 2) with triple track option
Interface Ports
RS232, RS485
Auxiliary RS232 port is available
Additional RS232 ports are available via remote connector block (RBC)
Single cable for power and host communications
Application
ANSI "C"
Applications Support
Base Retail Application available that supports credit, debit, electronic benefits transfer, signature capture, customer graphics display OPOS, OLE for Point of Sale, is an object-oriented programming environment used to develop POS terminal applications based on the popular Microsoft API's
JPOS, Java Point of Sale, is an object-oriented programming environment used to develop POS terminal applications based on the popular Java language
Application Libraries
A Library of API's are available for applications written for Windows, FlexOS, and DOS
Security
ANSI X9.8 and X9.24
Master/Session support
Visa 2000
Multiple DUKPT and Master Session keys available on same unit
Interac
Secure key injection process required
ISO 9564
Tamper-resistant security module
DUKPT support
Inherently secure microcontroller
Power
Voltage 11-14VDC 1.2 A power supply, 60 Hz, 24W
Dimensions & Weight
2.75″ x 8.5″ x 7.5″
28 oz.
---
Contact Us For Details: