RDM EC7000i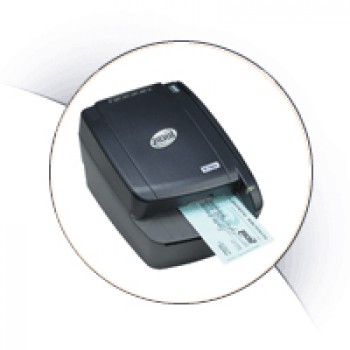 The EC7000i is a low cost imaging solution from RDM. This two-sided image scanner is feature rich with latest compatibility for popular POS terminals.
---
The RDM EC7000i has a compact design to conserve counter space. The two-sided electronic check imager and reader capture clear binary images resulting in excellence for industry's demands.
The EC7000i scanner features a standard USB port, optional Franking Acknowledgment printer, internal alphanumeric OCR A and B character recognition, OCR E13B MICR Assist, three-track bi directional MSR and 10BaseT Ethernet connectivity. With these high quality specs and optional add-on modules, the EC7000i is among the most versatile and dependable two-sided imaging scanner device in the retail industry.
---
Specifications:
Internal Image Storage (memory)
Standard memory capacity approximately 225 images
Optional memory capacity approximately 625 images
* Based on 11kb size
Image
CCITT Group 4 compression (ITU T.6) of bi-level image
TIFF 6.0 file format
MICR line with transaction information included in header description tags of check image
OCR line with transaction information included in header description tags of bill stub
Image size varies according to document, typically 11kb or less
High quality binary (b&w) 200 dpi nominal
Document
Minimum: 2.17" W x 4.4" L (5.5 cm x 11.2 cm)
Maximum: 4" W x 9" L (11.16 cm x 22.86 cm)
Paper weight: 8lb to 100lb (thermal paper to business card stock)
Microprocessor
Renesas (Hitachi) SH-3 32-bit RISC 133 Mhz
Communication Ports
Power: Mini-Din 3-pin
USB: Type-A connector (V1.1)
AUX: Mini-DIN 8-pin
COM: Mini-DIN 9-pin
TEL/Ethernet: RJ11 for optional modem; RJ45 for optional Ethernet
Magnetic Read
E13B MICR character set. Uses RDM's Progressive MICR Method for optimum
MICR read accuracy
Bi-directional Check Drive
Bi-directional document drive can be paused under application control to
hold a check pending an authorization decision, and provide visual
disposition of the decision by returning the check to the user via the exit slot face up if approved or face down if denied
Software
Developer's Kit includes: Application Developer's Kit (ADK) for Windows,
Sample Application SAXCo and Serial Interface Kit
Physical Dimensions
Std model: max. 10.2″ L x 6.2″ W x 4.8″ H
MSR model: max. 10.2" L x 6.2″ W x 5.3″ H
Power
Power Consumption: 12 W (normal operation)
Input: 100-240V AC, 50-60Hz 1.2A
Output: 24V DC, 1.5A
Environment
Temperature (Operating): 32 to 104 Degrees F
Humidity (Operating): 10 to 85% relative humidity (non-condensing)
Options
Modem
33.6Kb internal modem with data compression and error correction
Ethernet
Optional 10BaseT connectivity
Franking Acknowledgement Printer
Under application control a fixed text message is stamped on the face
of the check (1 line "Electronically Presented" in red). Customizable text message on franking stamp at time of order is available
Magnetic Stripe Reader (MSR)
3-track, bi-directional, alphanumeric
OCR E13B MICR Assist
When activated under application control, optical read of E13B MICR
characters acts as a backup to the magnetic read enhancing MICR read
OCR Font Recognition
Alphanumeric OCR A and B font recognition, internal
to scanner enables automatic recognition of OCR
code-lines for applications such as bill payment
Stacker for EC7000i Series & Card Terminal
---
Contact Us For Details: