Verifone Keyboard 100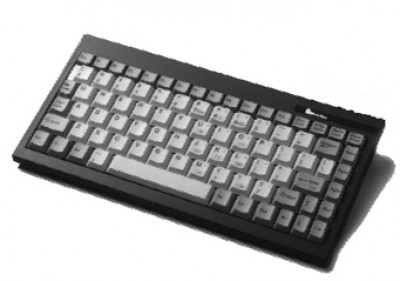 With VeriFone-s Keyboard 100, data in volume is easily entered. This keyboard allows the use of a complete typewriter keyboard to TRANZ or OMNI terminals.
---
The Keyboard 100 helps retailers to input data with complex transactions. Many applications require alpha entry. This can be accomplished by using the Keyboard 100.
The Keyboard 100 serves as a significant tool in many operations. This includes processes that require more than just the typical keypad. By utilizing this keyboard, countless applications and enhancements can be done for the POS system.
---
Specifications:
HARDWARE
Type 85/86 keys QWERTY keyboard plus 12 function keys
(85 keys for U.S./86 keys for European)
COMMUNICATIONS
Serial Data Output RS-232 standard compatible
Baud rate: 9600
Data bits: 8
Parity: None
Stop bit: 1
PHYSICAL
Height 1.5 in (38.2 mm)
Width 11.4 in (288.5 mm)
Depth 5.7 in (144 mm)
Weight 1.0 lb (0.47 kg)
ENVIRONMENTAL
Operating Temperature 32 to 104 F (0 to 40 C)
Storage Temperature 0 to 151 F (-18 to 66 C)
Operating Humidity 15% to 90%, non-condensing
POWER
Input Power 9 VAC, 100mA rms
---
Contact Us For Details: