Verifone Mx870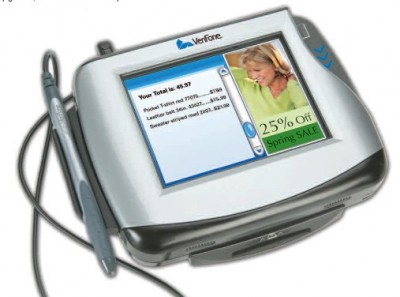 The VeriFone MX 870 features product branding in a different perspective.
---
The MX 870 is designed to work under the intense demand of a multi-lane environment. The 870 is built to multi-task. From attracting consumers to delivering full range of payment method the MX 870 can handle it.
A familiar interface with an additional tactile support for keypad PIN entry makes easy control over the terminal. The MX 870 handles transactions effectively. Its functionality extends to supporting value-added transactions like loyalty, gift card and other top-up applications. Having a bi-directional mag-stripe card reader, consumers don't need to go through hassle card re-swiping. The VeriFone MX 870 is designed to meet PCI PED, EMV level 1 and 2, Interac certifications and RoHS and WEEE compliance to provide security of the highest grade.
The VeriFone MX 870 provides a clear, legible and attractive interface as it has eye-capturing, 65,536 matrix display. MX 870 runs with high-speed processor and bigger memory space to support full in-motion videos and graphics. The keys are laser-etched to preserved label over the terminal's time. An optional touch screen is made up of a specialized glass to protect from scratch marks. A non-mechanical stylus is used to eliminate any electrical failure. An optional smart card reader is also offered. The MX 870 allows signature capture with an optional file management for unbeaten quality.
---
Specifications:
Processor
32-bit 200 MHz
Operating System
Embedded Linux with VeriFone security enhancements; MX platform
Applications
Form Agent, IBM EFT, NCR EFT
Memory
64 MB SDRAM + 64 MB Flash;
Field upgradeable via USB Flash memory drives
Display
65,356 color, 1/4 VGA, active-matrix,
5.7″ TFT
Graphics
Built-in media player supports
16-bit video animation
Speakers
Built-in speakers for tones, prompts, and music; Line-out port available
to drive external powered speakers
Keypad
Virtual PIN pad
PCI PED approved (online and offline)
Touch Screen
Capacitive/hardened glass
Signature Capture
Field upgradeable option
Magnetic Card Reader
Triple-track, bi-directional;
Software-controllable LED prompt
Smart Card Reader
Up to 3 SAMS
EMV Level 1 and 2 Type approved
Software controllable LED prompt
Factory option
Contactless
ISO 14443 AB certified
Optional, field-upgradeable module
Cable Connectivity
Supports VeriFone multi-port
cables with cable sensing:
1 RS-485/RS-232 port
and 2 RS-232 ports;
EverestPlus/Omni 7xxx cables
or MX multi-port cable for enhanced functionality
USB Connectivity
Standard, device and host capability
Ethernet Connectivity
10/100BaseT (factory option)
---
Contact Us For Details: