First Data FD300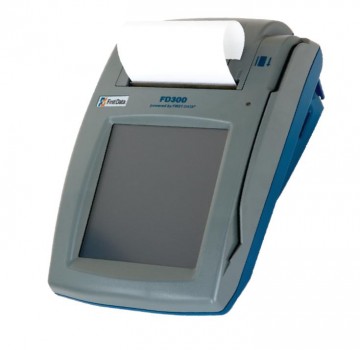 The First Data FD300 POS terminal is the perfect solution for merchants that require the newest technology in payment processing. The FD300 terminal gives retailers with multiple businesses in a common location the capability to work with different transactions in a single device. The FD300 is an all-in-one POS terminal that supports numerous payment options.
---
The First Data FD300 terminal serves as an ideal key for specialized businesses that handles not just a single business housed in the same workplace. This gives merchants the confidence that keeping track of sales is securely being handled. The merchant will be able to assign which business the particular sale is being processed. The FD300 gives the user an easy-to-read prompts and guide to notify to which specific business it is working on.
This POS terminal accepts payment options ranging from Visa, MasterCard, Diners Club, and American Express and Discover Network. A merchant can readily use the FD300 terminal to accept credit cards, PIN and signature debit cards, Electronic Benefits Transfer (EBT) cards and gift cards. The 32-bit processing, clear VGA touch screen display, 64MB memory, expansion ports, integrated thermal printer and an optional Wi-Fi capability makes the FD300 terminal one of the most advanced POS device in the market today.
---
Specifications:
Large, easy-to-use color touch-screen display
Windows CE Operating System
Fast downloads via IP with dial-up as backup
Accepts virtually all payment options
Complete diagnostics for support and installation
32MB Flash / 32MB SDRAM memory
Five USB ports, two serial ports, phone and modem ports for current connectivity and future expansion
High-quality manufacturing design for durability
WiFi enabled (optional)
---
Contact Us For Details: