Hypercom PV1310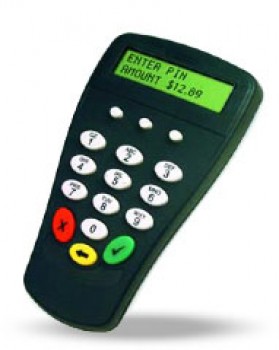 The Hypercom PV1310 is a PIN entry device. It complies with PCI-PED standards which ensure industry guidelines.
---
The Hypercom PV1310 is a cost-effective choice with quality performance for PIN based transactions. The PV1310 supports DES and triple DES encryption which are security standards in PIN entry. Stringent security methods protect any fraud and malicious information interference.
The Hypercom PV1310 design is comfortably fitted for customer's private PIN entry. It can easily be handled and be in a client's advantage point to safeguard his PIN. The clear display, function keys and comprehensive instructions are among the features to which the Hypercom PV1310 is a quality PIN entry device.
Leading ECR systems and Hypercom SmartPayment Client software can be easily integrated to the PV1310 depending on the merchant's preference. It is compatible to major POS terminal even from other manufacturers.
---
Specifications:
KEYPAD
Elastomeric: 16 keys, water splash-resistant, hard keycaps
DISPLAY
COMMUNICATIONS
RS-232 (standard)
USB client (optional)
POWER
5v @ 240mA – 12v @ 100mA (standard)
SECURITY
Physicaal: PCI PED-approved; intrusion detection
ENCRYPTION
DEESS: PIN-ANSI X9.8, MAC-ANSI X9.9
Tripple DES: ANSI X9.52
Key management: DUKPT, ANSI X9.24 Part 1
FOOTPRINT
3.31 in x 6.02 in x 1.30 in/ 84 mm x 153 mm x 33 mm
WEIGHT
ENVIRONMENT
Temperature: 0-45 C/32-115F
Humidity: Max 85%, non-condensing
ESD: 12,000 volts
RELIABILITY
100,000 hours (MTBF calculated)
---
Contact Us For Details: