MagTek APTM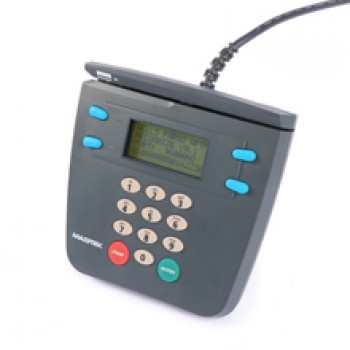 The APTM from MagTek enables quality and convenience for PIN-based and magnetic reading transaction in one compact unit.
---
The MagTek APTM is a compact device for PIN pad operations. Its small footprint significantly conserves space on desks and other window-based area. The device is integrated with a two-track vertical horizontal stripe reader. This adds to the APTM capabilities in reading credit, ATM and driver's license cards.
For security measures, the MagTek APTM supports DUKPT and Master/Session key management methods. Single DES, Triple DES, IdentiKey and DUKPT algorithms are also supported.
The MagTek APTM features advance security measures by utilizing dual-processor. This design creates a division for application and security processor. The security processor handles the PIN pad, key management and storage and LCD prompts. Having a dedicated processor ensures a separate operation removing any chance of fraudulent intervention from external application transfer.
---
Specifications:
General Information
Interface
IBM PCs and compatibles
Standalone
Color
White
Dimensions
Height: 7 in ( mm)
Width: 13.652 in ( mm)
Depth: 5 in ( mm)
Cable Length: 7.5 ft ( m)
Specifications
Card Standards
ISO, ANSI, ABA
Power
120 – 240 V, 50 – 60 Hz
Card Types
ISO standard PVC
Environment
Temperature
Operating: 32F – 131F (0C – 55C)
Storage: -22F – 158F (-30C – 70C)
Humidity
Operating: 10% – 90% non-condensing
Storage: 0% – 100% non-condensing
Altitude
Operating: 0 – 10,000 ft (0 – 3,048 m)
Storage: 0 – 50,000 ft (0 – 15,240 m)
---
Contact Us For Details: