Ingenico eN-Counter 4000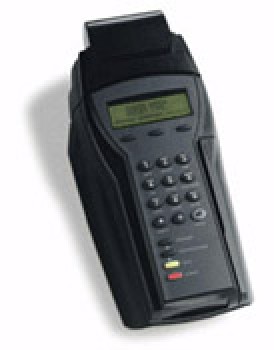 The en-Counter 4000 is a complete POS system with rich features suited for Retail/Restaurant applications.
---
The en-Counter 4000 is an advance POS terminal that supports many payment forms and numerous value-added applications. It can handle credit, debit, EBT and check services. The check reading feature is optional as an en-Check reader is connected to the en-Counter 4000. It can reprint receipts, support MO/TO with Address Verification Service and provides intuitive guides for easy operation.
The en-Counter 4000 is a stand-alone POS terminal that can have a number of devices connected to it to meet a merchant's specific need. An integrated printer, external PIN pad is available. An optional third RS232 port can be added to the en-Counter 4000 to accommodate another device.
The en-Counter 4000 provides speed and user-friendly features to its users. The large and clear keypad is simple to use as well as the clarity of the display is also outstanding. The en-Counter 4000 is incorporated with a large memory space to work even in a LAN configuration.
---
Specifications:
Graphic LCD Display
Graphic LCD display with up to 4 lines, 21 characters per line, 32 x 123 pixel addresses available
Memory
512 Kb flash memory and 128 Kb SRAM, Expansion to 3.7 Mb
Remote downloading of operating system and applications
Lithium battery back-up (5 years)
Microprocessor
80C186, 16 bits, 12 MHz
Magnetic Stripe Reader Options
Track 1 & 2 or track 2 & 3
Fast Thermal Printer Options
Integrated thermal printer
– up to 12 lines per second printing – no paper spool required
– easily attaches to and detaches from terminal – no messy ribbons to change
– graphics, reverse printing, scalable pitch and height – utilizes power from eN-Counter 4000 or 4100
– up to 32 or 42 characters per 2.12″ (54 mm) row – 2.25″ (58 mm) paper width
– metal tear bar provides clean cut
eN-Scribe 612 thermal printer
Color Coded Ports
RS232 8-pin mini-din
RS232 6-pin mini-din
RS232 8-pin mini-din (option)
RS485 7-pin mini-din (LAN)
RJ11 Connector
Additional port for telephone handset for shared line
Smart Card Reader
Front-half insert
ISO 7816-1,-2 & 3 T=0, T=1
Second smart card reader option
– bottom half insert with plastic cover available for security, holds full ISO card
PIN Pad
eN-Crypt 100
Modem(available with eN-Counter 4000 terminal)
300/1200/2400 bps asynchronous
Full duplex
Auto-dial/auto-answer
Bell 103/212A and CCITT V.21/V.22 compatible
Software
C or C++
Borland™ C++ Compiler and Paradigm™ locator/debugger (order separately)
Multi-tasking operating system
Software Development Kit available
PC download and encryption utility available
Dimensions & Weight
8.25″ (20.95 cm) (Integrated printer adds 4.0″ (10.16 cm) to height) x 3.5″ (8.89 cm) x 5.0″ (12.7 cm)
1.6 lbs. (.72 kg) without integrated printer
2.3 lbs. (1.05 kg) with integrated printer
---
Contact Us For Details: