VeriFone Everest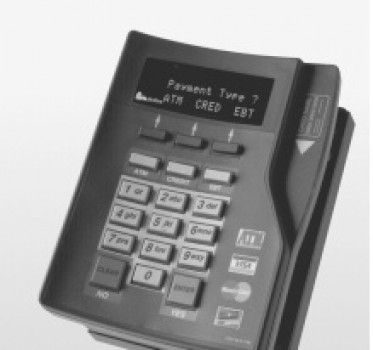 VeriFone Everest is a supreme customer-activated payment device that meets merchants demand.
---
It is designed to function as a Pin pad and with a built in card reader, customers can easily manipulate their individual transaction. This includes the use of ATM, EBT and a broad range of credit cards. The Everest gives more payment options for the clients which will make the business flexible to changing demands.
The Everest terminal transfer data to the Catapult system. This is automatically done. After the data is transmitted, receipt and authorization is good to print.
---
Specifications:
Hardware
Microprocessor
Motorola 68302
Memory Standard:
256 Kbytes (128-Kbyte Flash EPROM/128 Kbytes of RAM)
Option:
385 Kbytes (128-Kbyte Flash EPROM/256 Kbytes of RAM)
Display
2×16 dot matrix, vacuum fluorescent (VFD)
Card Reader
Bi-directional, supports track 1 and 2
Keyboard 18 Keys (10 alphanumeric, 3 screen-addressable, 3 soft function,
1 CLEAR and 1 ENTER)
I/O Port Configurations Cable sensing:
(a) 1 RS-485/RS-232 port and 2 RS-232 ports
(b) 1 RS-485/RS-232 port, 1 LAN/RS-232 port and 1 RS-232 port
Fixed port:
(a) 1 RS-485 port and 1 RS-232 port
(b) 1 RS-485 port and 2 RS-232 ports
Security Master/Session and DUKPT Encryption
Physical
Height 6.38 in (162 mm)
Width 5.16 in (131 mm)
Depth 1.93 in (49 mm)
Weight 1.5 lbs (0.68 kg)
Environmental
Operating Temperature 32 to 104 F (0 to 40 C)
Operating Humidity 10% to 80%, non-condensing
Power
Voltage 120 VAC, 60 Hz
---
Contact Us For Details: