First Data FD50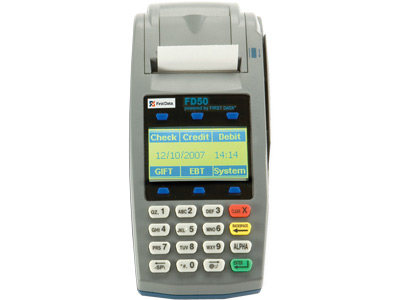 The First Data FD50 POS terminal is an economical solution to merchants. The FD50 features easy operation and high level security. It can work well with many standard external devices.
---
The First Data FD50 terminal accept payment options ranging from PIN-secured and signature debit cards and credit cards such as Visa, MasterCard, Diners Club International, American Express, Discover Network, JCB, plus gift/loyalty cards. Other payments like electronic benefits transfer (EBT) and checks from TeleCheck Electronic Check Acceptance (ECA) can be easily handled by the FD50 terminal as it can work well with other peripheral devices.
The First Data FD50 works reliably and quickly with utilizing IP based and dial-up connection. It features a simple security process that helps customer from fraudulent usage. The customer will have truncated receipts displaying the last four digit of the card.
The First Data Dynamic Currency Conversion (DCC) service can optionally be included with the FD50 terminal which allows clients to choice to pay in their own currency.
---
Specifications:
Verification and processing capabilities for ATM, debit, EBT transactions and check payments
IP connectivity with dial backup
Compact, small footprint design
Three-track magnetic-stripe reader
Support for contactless payments
32MB standard memory
3 USB ports and 1 serial port for peripherals and future expandability
Address verification service
Complete support and easy installation
Integrated 2.25″-wide thermal roll printer
Six durable screen-accessible keys
Secure Sockets Layer (SSL) and Triple Layer Security
(TLS) encryption
Quick, hassle-free drop-in paper loading
Provide value-added DCC service to international customers
---
Contact Us For Details: