VeriFone Omni 470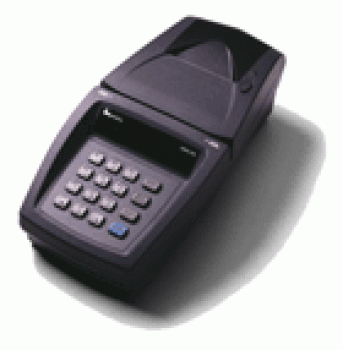 The OMNI 470 incorporates an all-in-one POS payment processing device.
---
The VeriFone OMNI 470 works as three point-of-sale equipments in one single unit. It is a terminal, printer and a PIN pad. This takes advantage for multiple tasks capabilities without wasting valuable counter space. The 1Mbyte of memory storage for the OMNI 470 can handle simple to advance transactions.
Consumers are protected while using the OMNI 470 because of the utilized advance security standards. The OMNI 470 process debit card transactions via the built-in PIN pad. It uses the Master/Session and DUKPT (derived unique key per transaction) key management methods.
Faster transaction time is observed as a thermal printer is used in this POS system. Legible receipts are generated at the completion of a transaction. The thermal printer has a long shelf life and it does not use any ribbon like the impact printer, which minimizes cost for cartridge replacement.
The OMNI 470 is managed by VeriFone's TXO operating environment where application can be easily added as the industry standard C-language is used. Programmers easily create specific merchant application.
---
Specifications:
Hardware:
Microprocessor Z180 CPU
Memory 128 Kbytes of EPROM
(Optional 128 Kbytes of Flash EPROM)
256 Kbytes or optional 512 Kbytes or 1 Mbyte of RAM
Modem 300/1200 or 300/1200/2400 bps
Internal PIN Pad Supports Master/Session, DUKPT and MAC
Card Reader Bidirectional, supports a Track 1 and Track 2
or a Track 2 and Track 3 reader
Peripheral Ports RS-232 serial port for connection to a check reader,
personal computer or electronic cash register
Serial port for an external PIN pad, smart card reader
or bar code wand
Printer 32-column format
Logic-seeking print mechanism
63 characters per second
Mechanical reliability: 2.2 million lines (MCBF)
Bidirectional printing
Physical:
Height 3.2 in (82 mm)
Width 5.3 in (135 mm)
Length 11.2 in (285 mm)
Shipping Weight 2.2 lbs (1.0 kg)
Environmental:
Operating Temperature 32 to 104 F (0 to 40 C)
Operating Humidity 15% to 90%, non-condensing
Power:
Voltage 95 to 130 VAC, 60 Hz
194/260 VAC, 50 Hz
---
Contact Us For Details: