Hypercom ICE 5500 Plus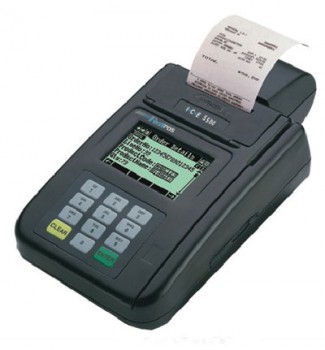 ICE 5500 Plus is yet another innovation from Hypercom that goes the extra mile for overall customer satisfaction and unique buying experience.
---
The touch screen display of this terminal enables it of signature and receipt capture which reduces instance of chargebacks and customer complaints. Its large display allows you to integrate your marketing strategies from displaying your company logo to automatic coupon and other advertisements.
This POS terminal complies with global communication and security standards to ensure safe processing of transactions. It has additional peripherals to accommodate other payment options.
---
Specifications:
Keypad
Elastomeric: 12 keys, water splash-resistant
Reliability: 500,000 keystrokes (calculated)
Display
LCD: 160 x 80 pixels
Backlight: 50,00 hours (calculated)
Card Reader
Magnetic stripe: Tracks 1,2, 3; 1, 2 or 2, 3 (standard);
JIS tracks (optional); reliability, 400,000 (calculated)
Chip card: EMV certified; ISO 7816;
non-captive; three SAMs
Contactless payment: Integrated (optional);
compliant with MIFARE standards
Communications
Modem: Hypercom FastPOS 9600bps,
2400/1200/300bps – V.29, V.22bis, V.22, V.21,
synchronous (SDLC) and asynchronous, LAN (optional)
PIN pad port: 4-wire, RS-485
Peripheral: RS-232
Printer
Thermal: 576 dots per line
Paper roll: 58mm x 50 mm; 80mm diameter (optional)
Reliability: 70,000 impressions (calculated)
Memory
RAM: 1 MB (standard, 1.5 MB (optional)
RAM backup: 5-year battery
Power
AC: 85-250 V AC, 50/60 Hz
DC: 24 V, 1 A
Security
Physical: intrusion detection and secure CPU
Encryption
DES: Visa PED approved; PIN-ANSI X9.8,
MAC-ANSI X9.9 Part 1-ANSI X9.24
Key management: DUKPT or 12 master/session keys
Environment
Temperature: 0-45 C/32-115 F
Humidity: Max 85%, non-condensing
ESD: 12,000 volts
Reliability
100,000 hours (MTBF calculated)
---
Contact Us For Details: