Ingenico eN-Sign 2020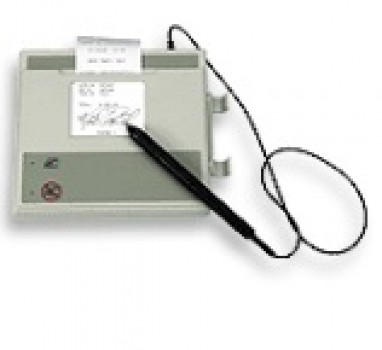 The en-Sign 2020 is a signature capture device that paves way to paperless transaction in the retail industry.
---
This device electronically reads and stores a customer's signature for verification and other documentary necessities. The en-Sign 2020 provides a simple design that can be operated with less complication. It can then avoid any fraudulent act in the point-of-service.
The en-Sign 2020 works by creating a copy of a signature and safely store it in a database for future retrieval and reference. The signature pad comes with a display to illustrate and aid in the identification process. Signatures are safeguarded by possible tampering during the transmission of data to the host system.
---
Specifications:
Hardware
Electro-magnetic digitizing tablet
Resolution 550 DPI
Software
Custom tailoring via transaction-based
parameter changes
– Retrieval software support from: NPC, NDC,
CRES, Mid West Payment Systems, Smoky
Mountain Technologies and others
– Register application software support from:
IBM Corporation, MGVA, Orion Systems, ADS,
Datavantage, Edje Technologies, Smoky
Mountain Technologies and others
Security
Signature Image Encryption
Biometric Signature Verification option
Template protection via message authentication
Connectivity
RS485 direct connect to IBM 466XX using 9A,
9B, 4B or equivalent ports
RS232C using host power if available
Connects to the Ingenico Payment System 2000
platform
Power
Requirements: Minimum voltage level on ripple
waveform: 11.50VDC.15 VDC unregulated supply
recommended for RS232 unit. Regulated 12 VDC
recommended for RS485 connection
Dimensions & Weight
7.0″ (180 mm) x 4.0″ (114 mm) x 2.5″
(51 mm) 1.2 lbs (0.5 kg)
---
Contact Us For Details: