VeriFone 1000SE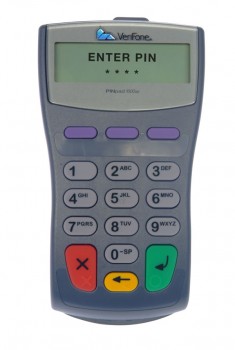 One of VeriFone s best-selling PIN pad devices.
---
The VeriFone 1000SE is the perfect solution for versatility for PIN-based transaction. It comes with an additional functionality that enables the device to work with contactless transactions. The PIN pad 1000SE is compatible with major contactless payment types including American Express ExpressPay, Discover Network Zip, MasterCard PayPass, Visa payWave and MiFare. The built-in contactless technology can complete processes with confident security from certified PIN pad setting standards.
In addition to its new capability, this new model from VeriFone is backward compatible to previous devices including the NURIT 222. VeriFone's contactless architecture secures investments. USB and ports are readily available for simple connectivity issue with external peripherals. Operation with the PINpad 1000SE is easy as a breeze because of its fully revamped design that can be comfortable gripped by customers and employees.
---
Specifications:
Display:
128 x 32 pixel LCD with 4 lines and
up to 21 characters; superior graphics
capabilities for graphics-based
character sets
Keypad:
16 large, hard rubber keys, including
3 function keys
Communications:
Factory optional USB or serial
connectivity
Security:
3DES encryption, VeriShield Security
Scripts, Master/Session and DUKPT
key management; PCI PED approved;
VeriShield file authentication
Physical:
Height: 40 mm (1.57 in.); width: 80 mm
(3.15 in.); depth: 145 mm (5.70 in);
shipping weight 0.215kg (0.474 lb.)
Contactless Physical
Height: 181.1mm (7.13in);
width: 83.5mm (3.29 in);
depth: 40.0 mm (1.57 in);
shipping weight 0.440 kg (0.97 lb.)
Environmental:
0 to 40 C (32 to 104 F) operating
temperature; 5% to 90% operating
humidity, non-condensing
Power:
Serial: 6-16V DC 0.5A max
USB: 5V DC +/-5%
Contactless Power:
Serial, USB: 8-20VDC 0.5Amp max
Contactless Applications:
MasterCard PayPass M/Chip
MasterCard PayPass MagStripe
Visa payWave MSD
Visa payWave qVSDC
Discover Zip
American Express ExpressPay
Pass-through access to ISO 14443-4
and MiFare cards, for direct host
terminal-based application access
Secure SoftSAM protects contactless keys
Hardware SAM optional
---
Contact Us For Details: