Nurit 2090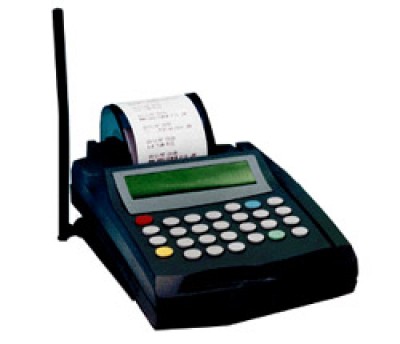 The Nurit 2090 is a compact point-of-sale terminal improved from the 2085 design. A built-in radio is included to the main feature of this terminal. An optional wireless connection is also accessible for retailers when they hare have radio network subscription.
---
This device includes a built-in fast printer that supports credit, debit, check, electronic benefits transfer (EBT), phone cards and other electronically submitted transactions. Transactions are easily addressed since the built-in thermal printer eliminates mechanical and cost related issues. Fast receipt printing means fast operation pace. Users can easily operate the Nurit 2090 with its big LCD and menu-driven program.
Nurit 2090 versatility best shows the most advanced component of the 2085 family of terminals Retailers and business will appreciate the NURIT 2090 for important "hot key" features programmed to deal with their particular operation needs.
---
Specifications:
32-character back- lit LCD display
Highly reliable 32-key ergonomically designed keypad
4 function keys and 4 soft keys (no template needed)
Alphanumeric entry capability
Standard dual track (1 & 2), dual-directional card reader
User-friendly menu-driven system
Optional built-in PIN pad
Optional smart card reader
Track 2 & 3 card reader available upon request
Hardware and Software
Power: Powerful 32-bit Motorola microprocessor, type EC68000
Memory: Total of 1152 KB (or more) of memory as follows: 1024 KB Flash memory for loader, operationg system, application, protocol and parameters 256KB rechargeable battery backed-up RAM for user data (including RAM disk) – optional 512, and 1024 KB
Programming: Fully soft operating system for custom applications
Programming in 'C' language
Complete and detailed built-in software tests
Reprogramming possible by downloading over phone line
Major third-party certification: credit, debit, check (verification and truncation), EBT, phone cards, pre-paid added value, and – private lable available
Security: User functions secured by password or magnetic cards
Multiple-level password protections
Terminal Center ID issued to terminal prevents easy reprogramming by third parties
Clearly distinguishable merchant and consumer receipts
Smart Card Interface (optional):
One smart card interface (supports ISO-7816)
Eliminates the need for high-cost external devices
Certified by VisaCash TM and MondexTM
SAM Security Module (Up to Four Optional):
Two internally accessible SAMs
Two externally accessible SAMs
Communication
Dial-up modem @ 1200& 2400 bps (CCITT V.22bis, Bell 212A)
Synchronous and asynchronous communication protocols supported by operating system
Operating system support for asynchronous protocols (VISA 1 & 2 etc…) and synchronous protocols (HDLC etc…)
Built-in radio modem
Built-in radio power supply batteries and charger
Hardware and software solutions for: BellSouth Wireless Data (Mobitex), CDPD Network, and Motorola Data Network (NATIVE protocol) INTERFACING
2 x RJ-11 2/6 connectors for line and telephone
1 x RJ-11 4/4 connector for PIN pad interface (RS-232 port up to 9,600 bps)
RJ-45 connector for general purpose RS-232 port (up to 19,200 bps)
RJ-11 type 4/4 connectors for RS-485 (LAN)
Measurements
Dimensions: 10cm high x 15cm wide x 26cm deep
Weight: (without paper) 2450g
Power Supply
Supplied UL certified AC/DC adaptor 15VDC / 2.5 A
Built-in rechargable / replaceable Ni-Cd battery (5 hours or 80 transactions) for stand-alone operation
Optional nickel-metal battery (9 hours or 150 transactions)
Approvals
Complies and registered with FCC parts 15 and 68
---
Contact Us For Details: