LinkPoint 3000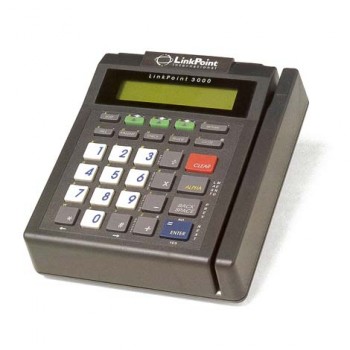 The LinkPoint 3000 offers merchant with the capability for a faster transaction with outstanding performance.
---
The LinkPoint 3000 is the new advancement in POS terminal development. It operates efficiently with the added memory to handle more and complex applications. The LinkPoint 3000 boosts the business as it increases transaction speed, improved functionality with a high-level security to ensure customer protection. All of these features come in one economical price.
With the latest trend in technology, the LinkPoint 3000 delivers solution to competitive merchant. The 20 character backlit display also allows different options with lesser steps. Operation can be made without complications as the keys are clearly labeled for its function. Flexibility is enhanced by the additional ports found in this terminal. It is compatible to almost all standard peripherals. This includes an optional printer, gift and smart card readers, PIN pads, check readers, bar code wands and other devices.
---
Specifications:
Microprocessor
Z180 CPU operating at 12.288 MHz
Memory
128k EPROM and 256k battery-backed RAM (standard);
up to 1 megabyte (optional)
Display
Two-line 20 character LCD back-lit display
Keypad
30 key alphanumeric keypad
Audio feedback
tone (short tone for legal key entry, longer tone for illegal key entry)
Cardreader
Track 1 and track 2, bidirectional magnetic stripe cardreader
Communications
Internal modem with modular jack Standard Bell 103/212A series, V.21 and V.22 high-speed dialup
modem, 300 and 1200 baud
Peripheral Ports
3xRS232 serial ports for PIN pad, roll printers, slip printers, bar code wands, etc.
Power Connector
Three-pin male-DIN power connector
Telco Connector
Six-position modular jack
Operating Environment
32 to 104 F, 0 to 40 C
Humidity: 5% to 90% relative humidity; no condensation
Power Requirements Voltage: 120 volts AC, 60 HZ
Power
10W
Adapter Output: 9 VAC, 1.2 amps
Consumption: 450 mA, idle; 500 mA, off-hook status
Dimensions Height: 1.98 in (50.4 mm)
Width: 5.60 in (143.1 mm)
Depth: 6.50 in (165.4 mm)
Weight Shipping Weight: 2.74 lb. (1.24 kg)
---
Contact Us For Details: