Verifone Tranzit 1200c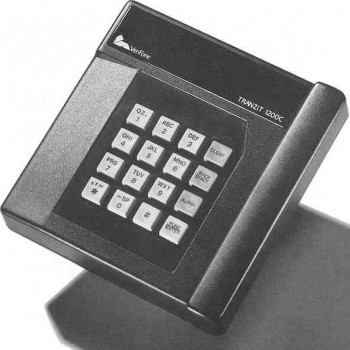 The Tranzit 1200c is a device that simplifies multiple POS terminals communication and cumulative data by centralizing it.
---
The Tranzit 1200c LAN controller serves as a high-speed server. This advances the Transaction Automation by connecting all terminals into a LAN. Having a server or a central controller manages and regulates all front and back end processing. By taking advantage of this centralized idea, communication cost is substantially minimized.
Terminals working on a single business are difficult to manage if it is individually processed as transmitted data is not properly stored. This gives way to the purpose of VeriFone's Tranzit 1200c. It combines all the necessary information at a single point. The Tranzit 1200c can handle journal and reports from individual terminals. In this manner, cumulative reports are done with ease. Data are electronically generated thus reducing errors.
The programmable Tranzit 1200c is available in two models, one in a standard controller with 32 Kbytes of random access memory (RAM) and a high capacity 128 Kbyte RAM for large businesses. This unique device from VeriFone can connect up to 31 terminals. It can be link by using a typical copper wire or a wireless two-way radio from VeriFone.
---
Specifications:
Communications:
Terminal Support
Polls up to 31 LAN terminals for transaction requests. Operates at up to 19,200 baud for a VeriFone LAN terminal network.
Memory
32 Kbyte or 128 Kbyte battery-backed static RAM for data and controller application
Communications Ports:
LAN
RS-485 Serial interface
1,200 – 19,200 bps asynchronous protocol
Modem
Bell 212A/103 – 1,200/300 bps dial-line model
RS-232
Two serial interface ports for connection to an external lease-line modem, a local computer, a printer or another communciations device. One port is asynchronous; the other can be asynchronous or synchronous. These ports can be configured to support from 300 – 38,400 baud.
Physical:
Height
1.6 in (40.6 mm)
Width
5.7 in (144.8 mm)
Depth
6.0 in (152.4 mm)
Shipping Weight (Approximate)
2.2 lbs (1.0 kg)
Environmental:
Operating Temperature
0° to 40° C (32° to 104° F)
Operating Humidity
15% to 90%, non-condensing
Power:
Voltage
120 VAC, 60 HZ, 13W
International power packs available
---
Contact Us For Details: