Verifone SC542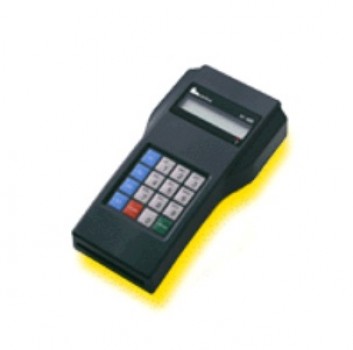 The VeriFone SC 542 is a combination of a dual smart card reader/writer and PIN pad functionality.
---
The SC 542 from VeriFone offers numerous smart card applications. The 542 supports stored value programs and value-added services in a compact design. Using the SC 542 features new applications that can be beneficial to the growing business. Sample of this is electronic purse and electronic business transfer (EBT).
The first VeriFone SC 542 reader/writer supports memory and microprocessor smart cards. The other one (second fully inserted smart card) handles retailer chip cards for storage and module upgrades. The SC 542 has an optional choice for additional character sets like Japanese, Chinese, Arabic and Cyrillic-based languages.
Applications written for a much lower model compared to the SC 542 can be ported. This is possible due to the industry-standard C language. The SC 542 lets merchant to have upgrade options to deal with the fast-paced industry and customer requirements.
---
Specifications:
Hardware
Display
2-line x 16-character LCD
Option: 120 x 32 dot matrix graphic display
Keypad 16 keys (all programmable)
Memory 128 Kbyte RAM (32Kbyte RAM optional)
Host Interface
Asynchronous serial (7/8 data bits, even/no parity)
Baud rates of 300 – 19,200 supported
Compatible with V.24/RS-232 signal levels
Smart Card Interface
All asynchronous microprocessor cards conforming to ISO 7816-1, -2, -3
Synchronous memory and protected memory cards
conforming to ISO 7816-1, -2
Security Module
DES, Master/Session Key and DUKPT key management
operations performed by the security chip
Keys stored in security chip
Communication between keyboard, display and security module safeguarded
Physical
Height 2.0 in (50 mm)
Width 4.3 in (110 mm)
Depth 7.9 in (200 mm)
Shipping Weight 1.5 lb (0.7 kg)
Environmental
Operating Temperature 0 to 40 C (32 to 104 F)
Operating Humidity 15% to 90%, non-condensing
Storage Temperature -18 to 66 C () to 138F)
Power
7.5–15 volts DC
230 mA (maximum consumption)
---
Contact Us For Details: