Thales Dassault Artema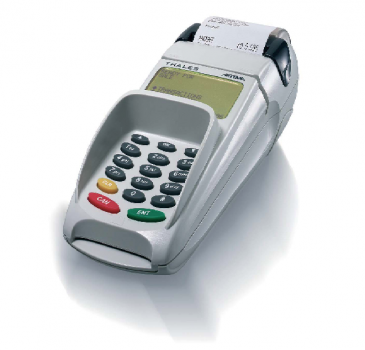 The Thales Artema is a wireless payment terminal that offers multi-application functionality and secure PIN entry.
---
Artema from Thales is a compact versatile payment terminal that accepts all types of card payment with PIN. The Artema runs with outstanding hardware and software specifications. This includes a 32-bit RISC processor, large memory, user-friendly interface, hassle-free paper loading and fast receipt generation. The Artema terminal complies with the latest industry standard in accordance to smart cards, gift and loyalty cards, age verification and electronic purse.
There are different ways in connecting the Thales Artema terminal. It can process transaction by using high-speed dial-up modem, Ethernet for local connections and ADSL router. GPRS connection is also an option.
The ergonomic design of the Thales Artema helps for easy operation. The printer has an instant paper loading for hassle-free replacement. Oversized keys minimize entry errors. The Artema also features a multi-line graphic display for easy reading. In addition, it is well designed to be used without cables thus allowing the carrying from the clerk to the customer.
---
Specifications:
Processor
32-bit RISC processor
Memory
4 MB – 12 MB Flash
512 KB – 1 MB RAM
Card readers
Bi-directional magnetic stripe reader
(ISO 1/2, 2/3, 1/2/3)
Chip card reader
(synchronous & asynchronous)
2 SAM connectors
3rd SAM or SD/MMC connector as option
Internal PIN pad
Compliant with EMV PIN requirements
3-DES, RSA
Printer
Easy-Click instant paper loading
Fast thermal printer: 12 lines/second
24/32/40 columns
High-resolution graphics
Display
132 x 64 pixel, backlit
8 lines x 22 characters
Keypad
17 keys, including 3 navigation keys
Acoustic beep
Communication modules
V.34 modem
LAN (via Artema ECB)
GPRS (via Artema ECB)
Interfaces
2 x RS 232
(for external PIN pad or contactless reader)
Speed programmable up to 115,200 bps
Power supply
Universal 100 – 230 V, 50 – 60 Hz
Dimensions
248 x 84 x 70 (L x W x H in mm)
Weight
770 g (including paper roll)
Approvals
EMV Level 1
EMV Level 2
PED, online / offline
Software and services
Multi-application
TCP/IP
Modular software downloads
Software Development Kit
SDLC
---
Contact Us For Details: