VeriFone Omni 3730LE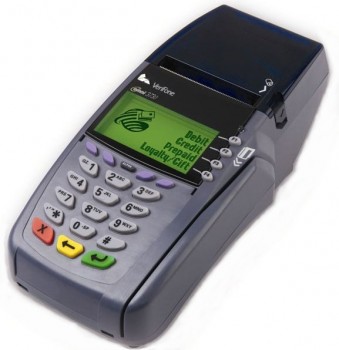 One of VeriFone s all-in-one terminals. The VeriFone OMNI 3730LE is the perfect solution for a merchant that looks for reliability and dependability in a device.
---
The VeriFone OMNI 3730LE is a reliable payment terminal that can process transaction with full security. It supports a wide range of payment types from credit to Dynamic Currency Conversion. It also supports multi user in just one terminal with appropriate protection. The built-in check imager and reader make it more flexible as paper documents can be converted into electronic data. In this manner, transaction can easily be processed as personal verification is eliminated. In addition, the OMNI 3730LE features file compression and high-speed dial modem simplify downloads with lesser time.
An intuitive ATM-style interface is applied that reduces entry and operation errors. The handy ergonomic design with large keys makes PIN entry from customers easy. A quiet thermal paper is also built in which has a "clam shell" design for hassle-free paper replacement.
The VeriFone OMNI 3730LE features advanced security standard for protected transactions. This includes 3DES encryption and Derived Unique Key Per Transaction (DUKPT) key management and the VISA PED Certified.
---
Specifications:
Microprocessor:
32-bit microprocessor
Memory:
1.5, 3 or 4 MBytes
Display:
128 x 64 pixel LCD with backlighting; supports 8 lines x 21 characters, including graphics
Magnetic Card Reader:
Triple track (tracks 1, 2, 3), high coercivity, bi-directional
Primary Smart Card:
ISO 7816, 3V, or 5V synchronous and asynchronous cards (Omni 3720 and 3750); EMV-certified
SAM Card Reader:
2 or 4 SAMs optional (Omni 3720 and 3750)
Keypad:
3 x 4 numeric keypad, plus 8 soft-function keys and 4 screen addressable keys
Peripheral Ports:
Two RS-232 ports and 1 telecom port support peripherals
Printer:
Integrated thermal printer with graphics capabilities, 12.5 lps, 24/32/42 columns; standard roll paper 58 mm (2.25 in.) x 25M
Omni 3750 Communications Module
Dial:
Bell 103/212a; ITU V.21/V.22/V.22bis/V.32/V.32bis — 300/1200/2400/9600/14.4 kbps; V.42 LAPM error correction
Protocols:
Application selects between asynchronous protocols (Visa 1, Visa 2, and others) and synchronous protocols (including ISO 8583/SDLC)
Security:
3DES encryption; DUKPT and Master/Session key management; PED certified; VeriShield file authentication
Physical:
Length: 210 mm (8.3 in.)
Width: 104 mm (4.1 in.)
Depth, includes printer spool: 83 mm (3.3 in.)
Weight: 760g (1.7 lbs)
Environmental:
0 to 40 C (32 to 104 F) operating temperature;
5% to 90% relative humidity, non-condensing.
Voltage:
100–240 VAC, 50/60 Hz, DC input 22–26 VDC, 1.5 Amp
---
Contact Us For Details: