Hypercom T7E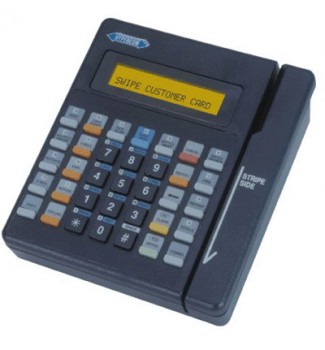 The Hypercom T7E is a point-of-sale terminal designed to provide quality performance to match the fast-paced industry.
---
The T7E is developed to answer the complexity of the retail industry. More and more applications are added that continuous training is such a downside. With the T7E's comprehensive user interface, training is a cinch. The keypad is 35-key design that allows key functioning. Alpha data are also inputted with a single stroke.
Communication is another advantage the T7E possess. It transmits data faster, quick response time and reduced communication costs. The T7E ensures a minimal operating and maintenance costs.
---
Specifications:
Protocol
SDLC (Synchronous) and Asynchronous (VISA 1 and 2)
Display: 2 x 20 back lit LCD
Keyboard: 35 keys
Memory
EPROM: 32K
RAM: 256K
Optional 1 MB
Card Reader
Tracks 1 and 2 simultaneous read (Track 3 optional)
Communications
Modem: Bell 212A/103, CCITT V.22/V.21,
1200/300bps (2400bps modem optional)
LAN, RS485, 2 wire
Power
+24Vdc, 200mA
Auxiliary Ports
ECR RS232
PIN Pad RS422
Parallel Printer TTL
Peripheral Compatibility
S7C, S7SC, S8, CS7GC,
P8S, P8F, P7E, S7GCB, ICR1
Dimensions
6″ W x 6.75″ D x 2.25″ H
Weight
1.3 lbs.
Memory/Clock Backup: Lithium battery (5 years)
Operating Temperature: 0C to 45C (32F to 113F)
Clock/Calendar: Host controlled
Relative Humidity: 15-85 percent, noncondensing
ESD Resistance: 12,000V
Options
Memory upgrades to 1MB
2400 baud modem
Track 3 reader
Graphics display (T7GE)
QWERTY keyboard (T7Q)
Reliability
MTBF: 95,000 hours
Key Life: 350,000 operations
Card Reader: 400,000 reads
---
Contact Us For Details: