Hypercom Optimum L4100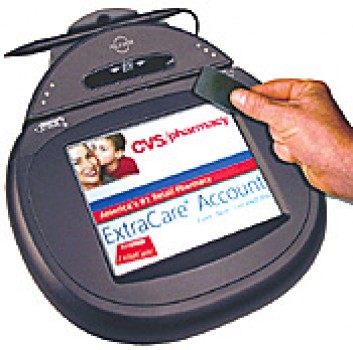 The Hypercom Optimum L4100 is about three things: cost-effectiveness, performance and security; all these without having to spend an awful amount of money. It comes in a fancy design, personalized bezel and colored screen ideal for marketing and offering a one-of-king buying experience to your patrons.
---
As to cost-effectiveness, Hypercom Optimum L4100 can support high-volume transactions with its 24MB of memory and Intel XScale 32-bit processor. Its pressure-sensitive touch screen and auto-sensing screen protection ensure reliable signature capture while protecting the screen from damage. It allows great savings from the lowered maintenance and repair costs.
As to performance, Hypercom Optimum L4100 has significantly lesser processing time with its wide-array of communication options. It is capable of WiFi, RS-232, and Ethernet connections. It is even faster thanks to its two-way magnetic strip reader.
Last, security. Hypercom's POS Public Key Encryption using the RSA method protects the L4100 from unauthorized loading of applications and other security attacks. It meets stringent security requirements with its scalable transaction framework.
---
Specifications:
Processor
Intel XScale 200MHz, 32-bit processor
Display
5.7 in. VGA color (standard)
Monochrome display (optional)
Touch screen with screen protector; screen protector
absence sensor prohibits use without screen protector
in place.
Card Reader
Magnetic stripe: Bi-directional, Tracks 1, 2 & 3
(standard); dual-head card reader (optional)
Chip card: EMV4.0 certified; ISO 7816;
non-captive; 3V and 5V cards; two 5V SAMs
Contactless payment: Integrated (optional);
compliant with ISO 14443 A & B
Communications
Two RS-232 ports (if contactless payments reader is
configured, only one RS-232 port is available); 12v/24v
power-in or power-out; USB (non-powered, client-only,
standard USB connector); optional 10/100Base-T
Ethernet RJ-45 connector; optional IBM retail USB;
optional compact flash, 3.3V cards only
Memory
4MB Flash/8MB SDRAM (standard)
8MB Flash/16MB SDRAM (optional)
Power
AC: 100-240 V, 50/60 Hz
DC: 12 V @ 700mA or 24 V @ 350mA
Encryption
DES: Visa PED approved; PIN-ANSI X9.8, MAC-ANSI X9.9 Part 1-ANSI X9.24
Triple DES: ANSI X9.52
Key management: DUKPT and master/session keys
Footprint
8.39 in x 8.19 in x 3.46 in/21.3 cm x 20.8 cm x 8.8 cm
Weight
Environment
Temperature: 0-45 C/32-115 F
Humidity: Max 85%, non-condensing
ESD: 12,000 volts
Reliability
100,000 hours (MTBF calculated)
---
Contact Us For Details: