RDM EC6000i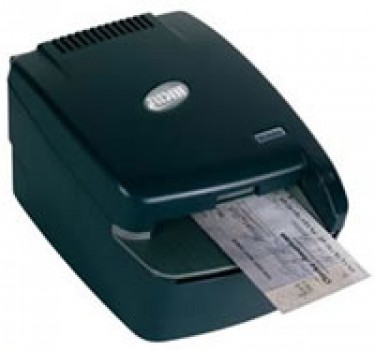 The EC6000i is an economically priced imaging solution from RDM. This image checker is feature rich with latest compatibility for popular POS terminals.
---
The RDM EC6000i is the latest RDM imaging model. Among the hottest development is its capability to connect to popular POS terminals and leading MICR and image technology. The EC6000i is the most supported document imager used for conversion and walk-in bill payments in the US retail industry.
The EC6000i has a compact design to conserve counter space. The electronic check imager and reader captures clear binary images resulting in excellence for industry's demands.
The EC6000i scanner features a standard USB port, optional Franking Acknowledgment printer, internal alphanumeric OCR A and B character recognition, OCR E13B MICR Assist, three-track bi directional MSR and 10BaseT Ethernet connectivity. With these high quality specs and optional add-on modules, the EC6000i is among the most versatile and dependable products in the retail industry.
---
Specifications:
Hardware
Memory
1 Mbytes of Flash RAM Standard
2MB and 4 MB Flash Memory Optional
300 dpi, black and white
Ports
1 RS-232 (mini DIN9) for POS terminal connection
1 RS-232 (mini DIN 8) for printer pass-through connection
1 RJ11 (33,600bps) with internal model option
E13B Magnetic Ink
Character Recognition
(MICR) Reader
Capable of 1- or 2-pass reads
MICR Assist Optical read of MICR Line
Bi-directional drive visual confirmation of approval disposition of checks
Modem
33.6kb internal Modem
Software
Active X ADK for Windows, Sample Application
Physical
Height: 4.5″
Width: 6.1″
Depth: 8.75″
Shipping Weight: 5.0 lbs
Power Requirements
Voltage
24VDC
Amperage
1A
Environmental
Operating Temperature
41 to 104F (5 to 40C)
Operating Humidity
15% to 95%, non-condensing
---
Contact Us For Details: