Hypercom T7P Friction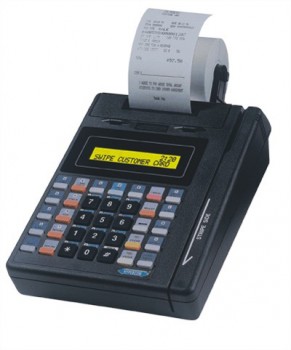 The Hypercom T7P F is a POS terminal integrated with a friction printer designed to provide high performance in the industry
---
The Hypercom T7P F is compactly designed POS terminal which comes with an economical cost. It was built to accept all magnetic stripe cards. T7P F comes with numerous configurations to fit merchants' need. It accepts more peripheral options. The keypad can be 19-key or with 35-key design.
The integrated printer is a friction printer. It features trouble-free paper replacement with its clamshell design. The printer quickly generates output with speed rate of 1.7 lines per second. It also supports the use of a wider paper roll.
Peripherals can be easily connected through its additional ports.
---
Specifications:
Keypad
Water and splash resistant, 35-key, 59-key with QWERTY keyboard (optional)
Printer
Built-in friction printer
Paper roll
Standard 2.25 in, single or 2-ply roll
Display
Backlit LCD, 2 lines X 20 characters
Card Reader
Magnetic stripe, tracks 1 and 2
Memory
256K and 12K RAM
Communications
LAN, RS485, 2 wire or 4 wire
Power
+24Vdc, 200mA
Dimensions
2.5 in Height, 5.18 in Width, 10 in Depth, 1.7 lbs
Environment
0-45 C/32-113 F.
Humidity – max 85%
---
Contact Us For Details: