VeriFone Vx610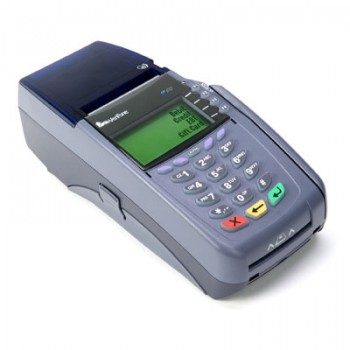 VeriFones reliable terminal that uses Sprint CDMA Wireless Data network for faster and secure transaction processing. New point of sale location can easily be added.
---
The VeriFone Vx 610 is a wireless terminal. Using the CDMA Wireless Data network, transaction from any points can be possible. This set up can be helpful during peak hours and busy holidays when an extra lane is necessary. The Vx 610 runs with a fast processor which can complete transactions in less than 4 seconds. The wireless capability of the VeriFone Vx 610 is more utilized as an advance antenna technology is used.
It supports wide range of POS payment types. These include credit, PIN debit, EBT, gift cards and Dynamic Currency Conversion.The Vx 610 can be operated via dial for traditional transaction or with the wireless technology for more flexibility.
The Vx 610 comes in a compact design that saves space and less clutter. Operation is easily learned as it applies the ATM-like interface. With the ergonomic design and large comprehensive functional keys, errors are minimized. For added security, the terminal is integrated with a PIN pad for PIN-based transaction.
---
Specifications:
Processor:
32-bit microprocessor
Memory:
6 MB (4 MB of Flash,2 MB of SRAM)
Display:
128 x 64 pixel graphical LCD with back-lighting; supports 8 lines x 21characters
Magnetic Card Reader:
Triple track (tracks 1, 2, 3), high coercivity, bi-directional
Primary Smart Card:
ISO 7816, 1.8V, 3V, 5V or synchronous and asynchronous cards;
EMV Level 1 and 2 Type approved
SAM Card Reader:
1 or 3 Security Access Modules (SAMs)
Keypad:
3 x 4 numeric keypad, plus 8soft-function keys and 4screen-addressable keys
Peripheral Ports:
One RS-232 port and 1 telco port support peripherals including check readers
Printer:
Integrated thermal with graphics capabilities, 18 lines per second, 24 or32 columns; standard counter-top paper roll 58 mm (2.25 in.) x 25M, single ply
Modem:
Standard 14.4kbps modem (Bell103/212a, CCITT V.21/V.22/V.22bis,300/1200/2400/14.4k bps, synchronous and asynchronous)
Wireless Modem:
Supports Wide Area Wireless GSMGPRS on 900/1800 MHz or850/1900 MHz;
CDMA2000 1X on800/1900, and Local Area Wireless Wi-Fi 802.11b
Protocols:
Application selects between asynchronous protocols (Visa 1,Visa 2, etc) and synchronous protocols (including ISO 8583/SDLC);
IP enabled with optional TCPIP protocol stack
Security:
PCI PED approved;
3DES encryption, Master/Session and DUKPT key management;
VeriShield file authentication; SSL API for secured IP transactions
Physical:
Length: 209mm (8in.)
Width: 102 mm (4in.)
Height:70mm (2.8in.)
Weight: Device/708g (1.5lbs)
Environmental:
0 to 40 C (32 to 104 F) operating temperature;
5% to 90% relative humidity, non-condensing
Voltage:
AC input 100 – 240 VAC, 50/60 Hz;
DC Output 8.6 – 9.4 VDC, 4.0 Amp
---
Contact Us For Details: