Verifone Omni 7100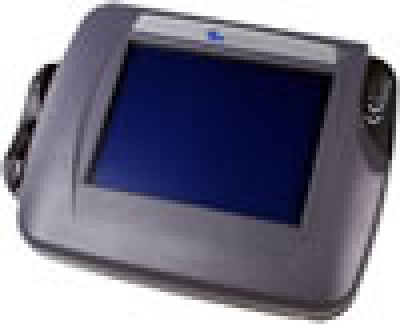 The OMNI 7100 modular payment device offers flexibility with extraordinary investment protection.
---
The VeriFone OMNI 7100 is a consumer-facing device that supports debit, credit, loyalty, EBT, and WIC transactions. The 7100 is the first true modular,1/4 VGA POS terminal with a bold, blue, backlit display and signature capture capability. It is easily operated as it has the VeriFone's intuitive ATM-like interface. A comfortable vertical swipe card reader and large lead-in surface lessens entry errors. The keys are laser-etched to preserved label over the terminal's time. Another advantage is the adaptability of the Omni 7100 to the Everest cabling and stands which significantly cut the expensive cost.
The 7100 is set up to meet the latest security standards. This comprises with 3DES encryption, Master Key/Session Key, and Derived Unique Key Per Transaction (DUKPT) key management, plus it's Visa PED approved for PIN-based transactions.
Easy and wide selection of upgrades makes the 7100 a great choice for merchants. It can be enhance from the base-level model to handle signature capture, EMV smart card, Ethernet/USB connectivity, EMV and Ethernet/USB and the ISO 14443-compliant RFID module.
---
Specifications:
Base Terminal
Processor
Motorola 68302 microprocessor
Memory
2 MBytes of FLASH and 1 MByte of SRAM
Display
1/4 VGA 320 x 240 pixel LCD with backlighting; 15 lines x 40 characters,
including graphics
Magnetic Card Reader
Triple track (tracks 1, 2, 3), high coercivity, bi-directional
Standard I/O Configurations
Supports VeriFone multiport cables with cable sensing: (a) 1 RS-485/RS-232
port and 2 RS-232 ports; (b) 1 RS-485/RS-232 port, 1 LAN/RS-232 port, and
1 RS-232 port
Security
DES, 3DES, RSA, Master/Session, DUKPT; VeriShield file authentication, "Virtual"
PINpad is Visa PED-certified
Programming
Programmable in ANSI C via the TXO Workbench
Physical
Height: 146 mm (5.75 in.); width: 190 mm (7.5 in.); depth: 51 mm
(2 in.); weight: 680 g (1.5 lbs.)
Environmental
0 to 40 C (32 to 104 F) operating temperature; 10% to 80% relative
humidity, non-condensing
Power Requirements
120 VAC, 60 Hz; DC input 12 VDC, 1 Amp; Power Supply (Optional)
Optional Modules
Signature Capture
Enables the capacitive touch screen for signature capture with an active stylus
Smart Card Module
EMV 3.1.1 and EMV 4.0 certified; supports both synchronous and
asynchronous cards; conforms to ISO 7816 standards; supports 3 Security
Access Modules (SAMs)
I/O Configurations
Ethernet 10BaseT – supports: Static IP, DHCP, TELNET, FTP, and Sockets
USB – specification 1.1 compliant (12 Mbps max), device mode support only,drivers supported for Windows PC and IBM SurePOS ECR
RFID Module
Complies with ISO 14443 Types A and B, and Mifare standards for
contactless payment
---
Contact Us For Details: