Telecheck Eclipse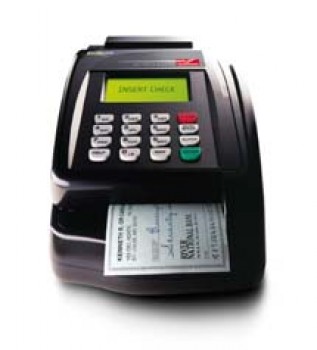 The TeleCheck Eclipse is an all-in-one POS terminal that answers the unforgiving demand for multi-payment processes.
---
The TeleCheck Eclipse terminal eliminates the need for merchants to have different devices in processing variety of payment types. The Eclipse authorizes and handles checks, credit and debit cards and EBT transactions in a single compact terminal. Having the multi processing POS device frees valuable counter space.
The Eclipse also supports the TeleCheck Electronic Check Acceptance (ECA) service. This particular method converts checks in paper into a digitally-readable data that can be process at the POS.
The Eclipse includes check reader, inkjet printer, dual-track magnetic stripe reader to create a powerful integrated terminal. The touch-screen functionality and ultra-bright display makes it easy to operate the terminal. It handles a sufficient number of check and credit card transactions thus generating a complete efficient data reporting.
---
Specifications:
Memory
1 Mb – 4 Mb flash
512 Kb – 4 Mb static RAM (battery-backed)
Processor
32-bit, 24 Mhz Motorola 68302
Display
Backlit graphic LCD COG display
Eight lines by 20 characters (128 x 64 pixels)
Keypad
16 keys (programmable keys)
Imaging
300-dpi capture
Capable of imaging documents as large as 8.5 inches by 3.7 inches
Printer
Hewlett-Packard Inkjet Technology
Single-color cartridge (HP51604A)
Prints on documents and roll paper
Landscape and portrait modes
4.5 lines per second
Modem
14.4 Kbps synchronous/asynchronous
Interfaces
Three RS-232 (for PIN pads, signature pads and other peripherals)
Two RJ-11 (for modem and telephone connections)
Magnetic Stripe Reader
Bi-directional magnetic stripe reader; dual track (third track optional)
MICR
E13B and CMC7 fonts
Dimensions
Height: 75 mm (3.95 inches)
Width: 146 mm (5.75 inches)
Depth: 290 mm (11.4 inches)
Weight
1.82 kg (4 pounds)
Shipping weight: 3.86 kg (8.5 pounds); includes terminal, power adapter, telephone line cable, paper roll, plastic spindle and box containing inkjet cartridge
Power
120 volt AC at 60 Hz (U.S.)
Optional power supplies for UK, Australia and New Zealand
Design and Manufacturing
Manufactured by VeriFone
ISO 9001/9002 guidelines
---
Contact Us For Details: