Ingenico eN-Scribe 612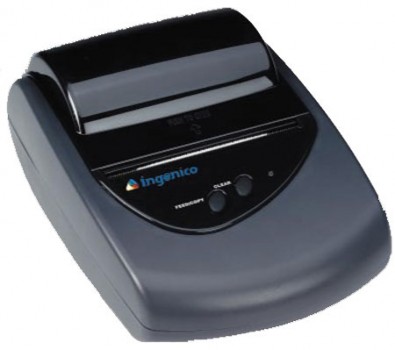 The en-Scribe 612 is a robust thermal printer suitable for numerous printing stations.
---
The en-Scribe 612 is a thermal printer known for its versatility as it can be used in checkout, ticket, courtesy, coupon, bar code and ticket printing. This thermal printer is a good replacement for VeriFone's P250 as it uses the same power supply and cable connection. Dimensions are the same with the VeriFone P250.
Receipt paper is wider with 3 inches. The en-Scribe 612 can print different fonts as well as company logos. Printing is done with a 12 line per second rate.
---
Specifications:
Printing
Method: Direct thermal dot matrix
Speed: 12 lines per second
Print Head
Type: Thick film thermal, 8 dots/mm, 72 mm wide
print field, 576 dots
Voltage: 24VDC nominal
Printhead Life: 50 million pulses per dot, 50 km of
paper feed or 5 million standard size print lines
Fonts/Graphics
Fonts: 32 character country specific font, 96 character
ASCII font, 128 character international font all printable
as double wide, double high and double
high/wide characters. All printable in reverse format
to simulate red printing. Full graphics capability.
Paper Type
Thermal sensitive, single ply, POS or facsimile
grade
Thickness: .009 in. (0.25 mm) maximum
Roll Width: 3.0 + 0.020 in. (76 mm + 0.5 mm)
Roll Dia.: 3.03 in. (77 mm) maximum
Roll Core ID: 0.480 in. (12.2 mm)
Roll Core OD: 0.625 in. (15.9 mm)
Interface Serial
RS232C compatible
Parity: Odd, Even and None (factory default- Even)
Baud Rate: 1200, 2400, 4800, 9600, Baud (factory
default- 9600)
Word Length: 7,8 bit (factory default – 7 bit)
Power
Line Voltage: 115 +5VAC @ 60 Hz
Secondary Voltage: 22VAC @ 1.5 A RMS maximum
Wattage: 20 watts typical, 31 watts maximum during
peak printing
Dimensions & Weight
8.5" (215 mm) x 6.1" (155 mm) x 2.1" front,
3.9" back (52 mm front, 98 mm back)
1.9 lbs (0.9 kg) including paper roll
---
Contact Us For Details: