Epson TM-U675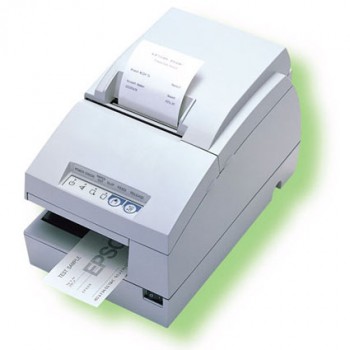 The TM-U657 is a compact printer that offers flexibility and performance even in the years to come. A multifunction POS printer with MICR.
---
The Epson TM-U675 is a point-of-sale printer that answers even the most challenging customers. It comes with slip handling capabilities and a MICR. The TM-U675 supports a 90 degree print rotation to improve document handling. The Epson TM-U675 runs with an Auto Status Back (ASB) capability which monitors the printer's status in real time. This keeps maintenance an easy job.
The TM-U675 is able to print and validate in a single compact unit. This is quite advantageous to merchants who are looking for a reliable printer to fit in a small area.
---
Specifications:
Print Method
9-pin, serial impact dot matrix
Print Font
5 x 9 / 7 x 9
Column capacity : Receipt: 37 / 50 columns, Slip / Validation: 45 / 60 columns
Character size
1.56 x 3.1 mm (W x H) / 1.24 x 3.1 mm (W x H)
{0.061 x 0.122″ / 0.049 x 0.122″}
Character set: 95 Alphanumeric, 37 International, 128 x 11 Graphic characters
Print Speed: Approx. 5.14 lps (40 columns, 17.8 cpi)
Paper Dimensions
Receipt or Journal: 82.5 + 0.5 x diameter 83 mm {3.25 + 0.02 x diameter 3.27″}
Slip: 70 to 148 x 150 to 210 mm (W x L) {2.76 to 5.83 x 5.91 to 8.27″}
Validation: 148 to 150 x 70 to 210 mm (W x L) {5.83 to 5.91 x 2.76 to 8.27″}
Paper Thickness
Receipts or Journal: 0.06 to 0.085 mm / sheet {0.0024 to 0.0033″}
(Total thickness: 0.2 mm {0.0079″} or less)
Slip: 0.09 to 0.2 mm / sheet {0.0035 to 0.0079″}
(Total thickness: 0.09 to 0.31 mm {0.0035 to 0.0122″})
Validation: 8 lines
Copy Capability: One original and two copies
Inked Ribbon: ERC-32 (Purple)
Ribbon Life: 6,000,000 characters
Power Supply Voltage: 24 VDC + 10%
Current Consumption: Approx. 1.7 A (mean)
D. K. D. Function: 2 drivers
Reliability
MTBF 180,000 hours
MCBF 37,000,000 lines
Overall Dimensions
186 x 298 x 195 mm (W x D x H) {7.3 x 11.7 x 7.7″}
Mass
Approx. 4.8 kg {10.6 lb}
With autocutter approx. 5.8 kg {12.8 lb}
EMI Standards: VCCI class A, FCC class A, CE marking
Safety Standards: UL, CSA
Interfaces
RS-232C / Bi-directional parallel
RS-485 / USB / Connect-It
Factory Options Autocutter, MICR
Data Buffer: 4 KB or 45 bytes
NV Bit Image Memory: 384 KB can be used to store graphic files
---
Contact Us For Details: