VeriFone Everest Plus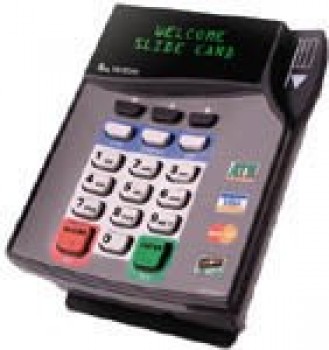 The VeriFone EverestPlus comes from the earlier VeriFone Everest. It has full power payment capabilities with certified good quality.
---
The EverestPlus from VeriFone offers the practical features of a payment terminal that offers dependability and security. It is a runs efficiently with economical price.
It is designed to function as a PIN pad and with a built in card reader, customers can easily manipulate their individual transaction. This includes the use of ATM, EBT and a broad range of credit cards.The EverestPlus gives more payment options for the clients which will make the business flexible to changing demands.
The EverestPlus reads magnetic card through its triple-track card reader. In addition, a tactile support for confirmation is featured for visually challenged clients. VeriFone extended the EverestPlus warranty up to three years because of its reliability.
---
Specifications:
Hardware:
Microprocessor Motorola 68302
Memory 768 Kbytes (512-Kbyte Flash EPROM,
256 Kbytes of RAM)
Display 2 x 16 dot matrix, vacuum fluorescent (VFD)
Card Reader Bidirectional; available in dual-track (1, 2) or
triple-track (1, 2, 3) versions
Keypad 18 keys (10 alphanumeric, 3 screen-addressable,
3 soft function, 1 CLEAR, and 1 ENTER)
I/O Port Configurations Cable sensing:
(a) 1 RS-485/RS-232 port and 2 RS-232 ports
(b) 1 RS-485/RS-232 port, 1 LAN/RS-232 port,
and 1 RS-232 port
Security Master/Session and DUKPT encryption;
PED compliant; VeriShield file authentication
Standard Warranty Three years
Physical:
Height 6.38 in (162 mm)
Width 5.24 in (133 mm)
Depth 2.11 in (53.7 mm)
Weight 1.5 lbs (0.68 kg)
Environmental:
Operating Temperature 32 to 104 F (0 to 40 C)
Operating Humidity 10% to 80%, non-condensing
Power Requirements:
Voltage 12 VDC
Amperage 350 mA
Power Supply Input: 120 VAC@60 Hz 10%
Output: 12 VDC, 1 Amp
---
Contact Us For Details: