Verifone Tranz 340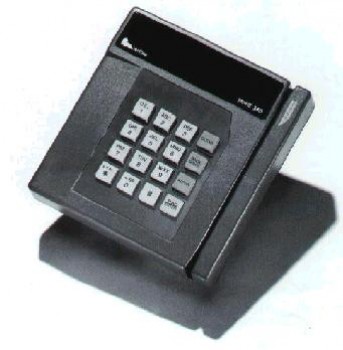 The TRANZ 340 from VeriFone is able to support multiple business application through fast and efficient processing.
---
The TRANZ 340 expanded the usual application handled by previous terminal by accepting debit (ATM) cards as payments for purchased goods or services. In addition to this the TRANZ 340 is a device that accepts credit and debit electronic draft capture and check guarantee.
The TRANZ 340 works by sharing information or applies the share-data-process with the the TRANZiT 1200C or TRANZiT XPe controller for storage. This terminal can also accept other devices such as adding a roll printer, a PIN pad for debit card processing or a bar code wand. The TRANZ 340 features VeriFone's Terminal Control Language (TLC) for easy upgrade.
This VeriFone device can easily be operated because of its readable display and large legible character that minimizes user errors. Smart prompts also guides user for easy and faster processing.
---
Specifications:
Hardware:
Microprocessor
Z80 CPU
Memory
32K EPROM and 32K battery-backed RAM
Display
16-character, vacuum fluorescent display, including decimal point and comma
Card Reader
ABA track 2 magnetic card reader
Track 1 available as an option
Peripheral Ports
RS-232 serial communications port for a slip or roll printer
Communications Port
For connecting a PIN pad or third-party device such as an intelligent barcode wand or hand-held scanner
Communications:
LAN
Up to 16 TRANZ 340 systems can be connected to a TRANZiT 1200C controller
Up to 31 TRANZ 340 systems can be connected to a TRANZiT XPe controller
Physical:
Height
1.5 in (38.1 mm)
Width
5.6 in (142.2 mm)
Depth
6.0 in (152.4 mm)
Shipping Weight (Approximate)
2.2 lbs (1.0 kg)
Environmental:
Operating Temperature
0 to 40 C (32 to 104 F)
Storage Temperature
-18 to 70 C (0 to 158 F)
Operating Humidity
20% to 90%, non-condensing
Power:
Voltage
240 VAC, 50 Hz; 120 VAC, 60 HZ
---
Contact Us For Details: