Hypercom P1100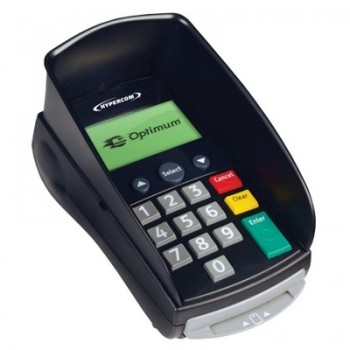 The Hypercom P1100 is a PIN entry device. It complies with PCI-PED standards which ensure industry guidelines.
---
The Hypercom P1100 is a cost-effective choice with quality performance for PIN based transactions. The P1100 supports DES and triple DES encryption which are security standards in PIN entry. Stringent security methods protect any fraud and malicious information interference.
The Hypercom P1100 design is comfortably fitted for customer's private PIN entry. It can easily be handled and be in a client's advantage point to safeguard his PIN. The clear display, function keys and comprehensive instructions are among the features to which the Hypercom P1100 is a quality PIN entry device.
---
Specifications:
Keypad
Display
64 x 128 pixel graphic display
LED backlight
Card Reader
Magnetic stripe: (optional); Tracks 1, 2 (standard), Tracks 2, 3 (optional), Tracks 1, 2, 3 (optional)
Chip card: ISO 7816; 3 SIM sockets
Hybrid reader: (optional)
Privacy Shield
A selection of privacy shields is available on request
Communications
RS-232 ports (standard)
RS-422 ports (optional)
USB
Memory
512KB SRAM for applications
512KB SRAM for data
Power
DC: 12 V, 0.3 A (standard)
Security
Physical: Intrusion detection and secure CPU
PIN Encryption
DES: Visa PED approved; PIN-ANSI X9.8, MAC-ANSI X9.9 Part 1-ANSI X9.24
Triple DES: ANSI X9.52
Key management: DUKPT or 12 master/session keys
Footprint
3.78 in x 7.36 in x 2.36 in/9.6 cm x 18.7 cm x 6.0 cm
Weight
Environment
Temperature: 0-45 C/32-115 F
Humidity: Max 85%, non-condensing
ESD: 12,000 volts
Cables
Flat or curly
A range of lengths available
Colours
Black with light gray chip card reader (standard)
A full colour range is available for volume requests
Certifications
Certified to global standards, including EMV Level 1 and PED approved
---
Contact Us For Details: