Hypercom ICE 6500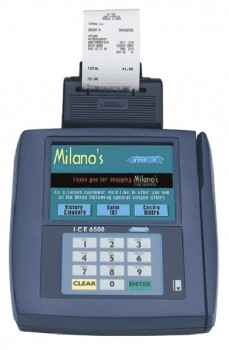 Its tagline says it all: interactive, web-enabled, revenue-generating POS terminal.
---
This device is a sure way to catch your customers' attention. It has a full-color display for advertisements and coupons. Customers can initiate their payment and are guided all the way by prompts and on-screen instructions.
The Internet is perhaps the most powerful technology at present. This is maximized by the ICE 6500 in that in is web-enabled to support email, electronic signature and receipt capture among others.
It can be installed with value-added applications that can help the merchant in his business. The ICE 6500 can be used in checking bank activities, incoming sales and customer information.
---
Specifications:
Display
LCD: 320 x 240 pixels, 256 colors
Backlight: 25,000 hours (calculated)
Touchpad: 870 PPI
Card Reader
Magnetic Stripe: Tracks 1, 2, 3; 1, 2 or 2, 3 (standard); JIS tracks (optional)
Reliability: 400,000 reads (calculated)
IC Card Interface: ISO 7816-1,2,3,4; T=0, T=1, EMV-compliant
SIMMLOCK: 4 SAMS
Smart Card: Non-captive reader
Communications
Modem: Hypercom FastPOS 9600 bps, 2400/1200/300 bps; V,29, V.22, V.21, synchronous (SDLC) & asynchronous
PIN Pad Port: 4-wire, RS-485
Peripheral: RS-232
Printer
Thermal: 576 dots per line
Paper Roll: 57 mm wide, 80 mm diameter
Paper Cutter
Automatic: 955 partial cut
Memory
RAM: 1 MB (standard), 1.5 MB or 2 MB (optional)
Power
AC: 85-250 V AC, 50/60 Hz
DC: 24 V, 1 A
Security
Physical: Intrusion detector, secure CPU
PIN Encryption
DES: PIN-ANSI 9.8, MAC ANSI 9.9, Triple DES
Key Management: 12 Master/session keys or DUKPT
Environment
Temperature: 0-45 C/32-115 F
Humidity: Max 85%, non-condensing
ESD: 12,000 volts
Footprint
13.2 in x 7.4 in x 2.2 in/22.1 cm x 18.8 cm x 5.6 cm
Weight
2.6 lbs/1.16 kg
Product Lifecycle
Reliability: 100,000 hours (calculated), not including printer
---
Contact Us For Details: