Nurit 2085 Plus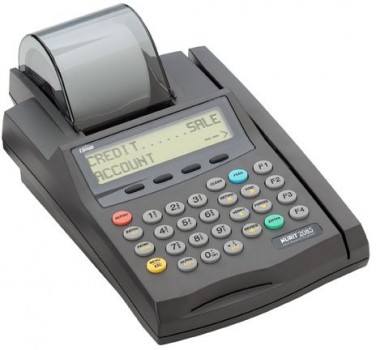 This credit card machine is an upgrade from NURIT 2085. It has almost the same features aside from an additional internal PIN pad that allows receiving ATM Debit cards.
---
Using NURIT 2085 Plus gives merchants low-cost solution to multiple payment options. The NURIT 2085 Plus handles credit, debit, cash, EBT, property cards and other smart cards. It has a user-friendly display with a large backlit screen and menu driven interface that is easily comprehended. New employees can learn operating the machine without difficulty. A plus for manipulation and operation is the programmable LCD soft keys that can be changed to fit a business' constraint. This hot key management allows a single touch access for specific business application.
The Nurit 2085 Plus uses an integrated thermal printer that remove errors general in using ribbons from impact printers. It works quietly and quickly with easy-load features. It also includes additional ports in the rear portions to accommodate other external peripherals.
---
Specifications:
User interface:
2 line, 16-character backlit LCD display
Optional 192 x 48 pixel graphical display
32-key ergonomic keypad
Menu-driven system
Multi-language font support
Printer:
Quiet, thermal graphic printer
12 lines/second
Automatic paper feeder
57 mm (2.25 in.) wide paper
8 dots/mm resolution
Magnetic stripe card reader:
Vertical swipe, bidirectional
Tracks 1 & 2 or 2 & 3
Communication:
300/1200/2400 bps FastConnect land line modem
Synchronous or asynchronous
HDLC
Processor and memory:
32-bit Motorola EC68000 processor
1, 2 or 4MB Flash memory for software
256KB to 1MB battery backed up RAM for user data, including RAM disk, with six month minimum data retention
Optional features:
EMV Level 1 Smart Card reader
Up to four ISO 7816 contact SAMs
Internal PIN pad
Interfaces:
Up to two RS-232
Optional RS-485 LAN instead of second RS-232
External PIN pad
Telephone and line
Software:
Powerful and proven NURIT Operating System (NOS)
Easy to use SDK and debugging tools
Download of application, parameters and/or NOS over phone or RS-232
Same applications run on all Lipman terminals
EMV Level 2 Kernel Library available
Approvals:
EMV Levels 1 and 2
FCC parts 15 and 68
TBR 21
CE
UL/TUV power supply
Dimensions:
H 92 mm (3.6 in.) x W 150 mm (5.9 in.) x D 260 mm (10.24 in.)
Weight:
---
Contact Us For Details: