MagTek Card Reader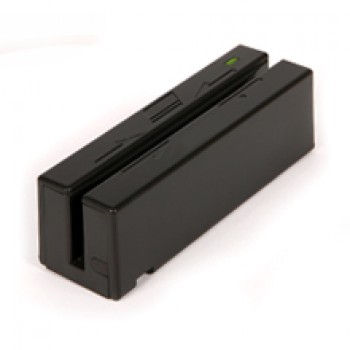 MagTek offers unprecedented quality in terms of swipe readers. The Swipe Card Reader helps business-s card transactions easily and with advance security.
---
The MagTek Swipe Card Reader comes in two models which are popularly known for its superior reading features. The smaller one is the Mini Swipe Reader. Its small footprint saves space. The Full-Size Swipe Reader offers longer card path to ensure accuracy in every card reading process.
Both models from MagTek work with many standard applications. The Swipe Card Readers supports different settings to manage compatibility with merchant's system.
---
Specifications:
Reference Standards
ISO, ANSI, CDL and AAMVA
Recording Method
Two-frequency coherent phase (F2F)
Card Speed
3 – 50 i.p.s.
MTBF
Electronics: 125,000 hours
Head: 1,000,000 passes
Audible Noise
55db at 39.4 in (1.0 m)
Temperature
Operating: 32F – 131F (0C – 55C)
Storage: -22F – 158F (-30C – 70C)
Humidity
Operating: 10% – 90% non condensing
Storage: 0% – 100% non condensing
Altitude
Operating: 0 – 10,000 ft (0 – 3,048 m)
Storage: 0 – 50,000 ft (1 – 15,240 m)
Port Powered RS-232
Quiescent: 1 – 2 mA typical (continuous)
Transmitting: 8 – 9 typical (5 ms duration)
Peak at Power On: 12 mA
DTR Voltage
5 – 15 VDC
Keyboard Wedge
Current
100 mA max
Power Input
From PC: 5 V, 100 mA max draw
---
Contact Us For Details: