VeriFone Vx510 GPRS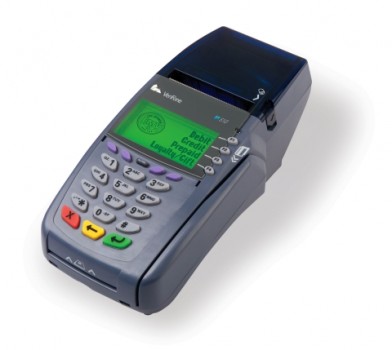 This advance payment terminal gives merchant the benefit of high speed without needing the additional cost. The VeriFone VX 510 GPRS is a fast, secure and affordable tool for a competitive merchant.
---
The VX 510 GPRS can easily connect to a wireless connection. It only requires a wireless service and a power supply. The GPRS capability of this device delivers unsurpassed broadband connectivity for faster transactions. Installation is easy as no network or DSL set up is necessary. The VeriFone VX 510 GPRS's large memory support value-added applications. Its card reader accepts all magnetic stripe cards.  In addition, multiple external devices can easily connect for faster transactions. Moreover, the VeriFone VX 510 GPRS eliminates the problem of using one phone line for transaction and business.
A built-in thermal printer helps the continuous movement of customers to minimize queue time. The printer has a simple paper loading system for easy operation. Another advantageous element is its user friendly interface that offers the familiar ATM-like manipulation. The large keys helps user for more readability and thus producing less errors. Its compact size gives merchants significant space with less clutter.
---
Specifications:
Processor:
200 MHz ARM9 32-bit RISC microprocessor
Memory:
3 MB – dial only
Display:
128 x 64 pixel graphical LCD with backlighting; supports 8 lines x 21 characters
Magnetic Card Reader:
Triple track (tracks 1, 2, 3), high coercivity, bi-directional
Smart Card (Optional):
ISO 7816, 1.8V, 3V, 5V or synchronous and asynchronous cards; EMV Level 1 and 2 Type Approval
SAM Card Reader (Optional):
1 or 3 Security Access Modules
Keypad:
3 x 4 numeric keypad, plus 8 soft-function keys and 4 screen-addressable keys
Peripheral Ports:
Two RS-232 ports, and one telco port supports communications and peripherals including PIN pads and check readers
Printer:
Integrated thermal with graphics capabilities, 18 lines per second, 24 or 32 columns; standard roll paper 58 mm (2.25 in.) x 25 M (82 ft.), single ply
Modem:
Standard 14.4 kbps modem supporting Bell 103/212a, CCITT V.21/V.22/V.22bis/V.32/V.32bis (300/1200/2400/9600/14400 and HC Fast Connect for 1200 bps)
Protocols:
Application selects between asynchronous protocols (Visa 1, Visa 2, and others) and synchronous protocols (including ISO 8583/SDLC)
Environment:
0 to 40 C (32 to 104 F) operating temperature; 5% to 90% relative humidity, non-condensing
Voltage:
AC input 100 – 240 VAC, 50/60 Hz; DC Output 8.6 – 9.4 VDC, 4.0 Amp
---
Contact Us For Details: