Hypercom Optimum M2100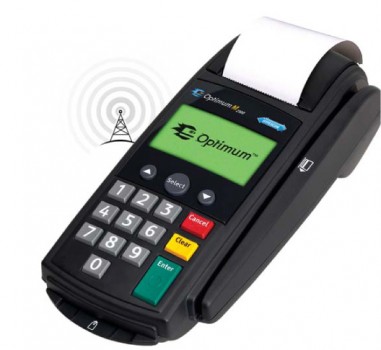 Today, almost everything goes wireless. Hypercom Optimum M2100 is a wireless payment terminal available so merchant can keep up with the ever increasing market competition.
---
The Optimum M2100 gives merchant complete POS processing with its wireless capabilities that offers secure and fast transactions.
Optimum M2100 works well without the restriction of a wire with its GSM/GPRS and Bluetooth communication devices. It comes with a heavy duty battery which allows the terminal to process as much as 300 transactions every time you charge it. It is ultra fast thanks to its 32-bit RISC processor. It is easy to use, fast, flexible, reliable and secure.
---
Specifications:
Processor:
Keypad:
16 keys, water splash-resistant
Display:
64 x 128 pixels
LED backlight
Card Reader:
Magnetic stripe: Tracks 1, 2 & 3 standard
Chip card: EMV 4.0 Level 1 and 2 certified;
ISO 7816; 3 SAM sockets
Communications:
Printer:
Drop-in loading, thermal technology, 384 dots per line, 60mm feed per second
Paper roll: 57 mm x 50 mm
Memory:
FLASH: 4MB
SDRAM:8MB (standard)
SDRAM battery backup: 512KB
Power:
AC: 100-240 V, 50/60 Hz
DC: 7.5 V, 4.5 A
Battery: Lithium-Ion, 7.4V, 2000mAh
Security:
Intrusion detection and encryption coprocessor
Encryption:
DES: PIN-ANSI X9.8, MAC-ANSI X9.9 ANSI X9.24 Part 1
Triple DES: ANSI X9.52
Key management:
DUKPT and 12 master/session keys
Footprint:
9.84 in x 4.33 in x 3.15 in/25.0 cm x 11.0 cm x 8.0 cm
Weight: 1.55 lbs/0.58 kg approximate
Environment:
Temperature: 0-45 C/32-115 F
Humidity: Max 85%, non-condensing
ESD: 12,000 volts
Reliability:
100,000 hours (MTBF calculated)
---
Contact Us For Details: