Ingenico i6770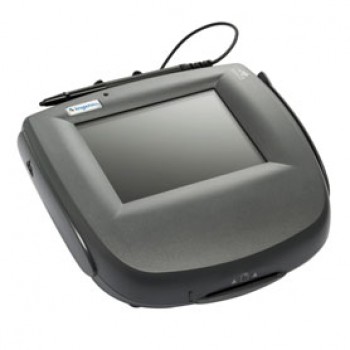 A touch screen POS device designed to provide fast yet secure payment, the Ingenico i6770. It is a customer-activated terminal, an electronic signature capture and product advertising medium.
---
The Ingenico i6770 is a payment terminal that offers a whole lot more of options based on the merchant's need.  It is a robust device best fitted for customer-activated transactions and ensure less maintenance costs.
The need for electronic signature capture for more complex transactions is easily handled by the Ingenico i6770. It provides a colored touch screen with an electronic pen. Ruggedly designed with a protective glass proven best in working with touch screen and signature capture, the Ingenico i6770 is certainly robust.
Communication is via multiple platforms to which the Ingenico i6770 supports. It comes with the standard communication types like RS232, USB, powered USB and tailgate. The RS485, Ethernet TCP/IP, ISDN and analogue modem are some of the optional connectivity preferences offered to the retailers.
Tough and secure, as the Ingenico i6770 is VISA-PED compliant and 3DES capable. The smart card reader complies with EMV 4.0. Optional SAM slots are also available. Numerous standards guided the development of the Ingenico i6770 which in turn provides confidence and assurance both for the customer and merchant.
With a vibrant graphical touch screen, triple track magnetic stripe reader, reliable electronic pen and EMV approved smart card reader the Ingenico i6770 offers secure and exciting customer checkout experience.
Ingenico has developed useful kits and modules for easy integration. UPOS (OPOS/JPOS) and IBMEFT are among the industry standards to which Ingenico conformed with. Compatibility and accessibility assures minimized development time and instant device functionality.
---
Specifications:
Processor
Ingenico Millennium V1 ASIC
32 Bit Processor
Memory
Standard 2MB RAM + 8MB Flash
Display
Graphical Passive Color LCD display with
resolution of 320×240 and 256 colors
Glare resistant display is sealed to withstand accidental spillage of liquids without glass damage
to the terminal
Magnetic Stripe Reader
Triple track reader – standard
Long swipe path increases first pass read rate
Smart Card Reader
EMV Levels 1 & 2 approved (4.0)
ISO 7816 1/2/3, Asynchronous T=0 & T=1 Cards
0 or 2 SAMs
Connectivity
RS232, USB, Powered USB, IVI LAN or
RS485/Tailgate over the Host port
Options include Ethernet, ISDN and analogue
modem
Interface Ports
Port 1: HOST – RS232, RS485, USB, Powered USB or RS485/Tailgate
Port 2: RS232
Port 3: Ethernet (optional)
Port 4: ITI (optional)
ISDN or an analogue modem
Security
Visa PED compliant
ANSI standards include X3.92, X9.8, X9.9, X9.19, and X9.24
Code Authentication providing secure application code loading
DES and 3DES PIN encryption
DUKPT and MasterSession key management
Power
12 VDC, 2 Amp power supply
Unit can be powered from cash registers, Powered
USB and stand-alone power supplies. Standard 5V
USB will require the use of an external power adapter.
Dimensions
3.54″ x 8.26″ x 8.26″ (89.9 mm x 209.8 mm x 209.8 mm)
Weight
36.5 oz. (1034 g)
Application Development and Support
Ingenico UNICAPT 32 architecture
---
Contact Us For Details: