Hypercom Optimum T4210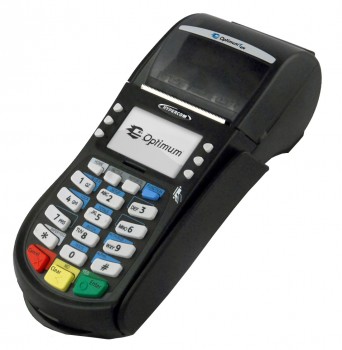 Good quality is not proportional to price. This is proved by Hypercom Optimum T4210.
---
Like its more expensive competitors, it has 24MB total memory that gives you flexibility. Value-added programs can be installed and higher memory needs brought by changes in regulatory requirements can be easily coped with.
T4210 is approved by PCI PED, EMV Level 1 & 2, Interac, among others to support magnetic stripe, debit, and chip card transactions are supported anywhere in the world.
Since security is a primary issue in POS transactions, T4210 is designed to meet the most rigid regulations. Aside from PCI PED, it is guarded from unauthorized application installation and use by the HyperSafe32.
The Hypercom Optimum T4210 is a boundless dial solution. It is fast with its ARM9 processor, supports multi-applications, ADA-style layout for ease, flexible and secure.
---
Specifications:
PROCESSOR
KEYPAD
19 buttons;PCI PED approved;
water splash-resistant
6 navigation buttons
ADA-style markings
DISPLAY
FSTN LCD with graphics
160 x 80 resolution
White LED, backlit
CARD READER
Magnetic stripe: Bi-directional, Tracks 1, 2, & 3
Chip card: Optional; EMV4.0 Level 1 & 2,
ISO 7816
Three SAM slots
COMMUNICATIONS
Primary: Dial
Modem: V.34/33.6Kbps
Ports: RS-232 for peripherals, PIN port for
external PIN pad
PRINTER
SureLoad clamshell design, drop-in loading,
thermal technology, 384 dots per line
15+ lines per second
Paper roll: 2.25", 50mm diameter
MEMORY
Total: 24MB
Flash: 8MB
SDRAM: 16MB
SRAM (non-volatile): 512K
SRAM Backup: 5-year battery
POWER
AC: 100-240V, 50/60 Hz
DC: 7.5V, 2.8A
ENCRYPTION
PCI PED approved
Triple DES: ANSI X9.52, PIN-ANSI X9.8,
MAC-ANSI X9.9 Part 1-ANSI X9.24
Key management: DUKPT, Triple DES DUKPT
and Triple DES master/session keys
FOOTPRINT
3.6 in (w) x 8.1 in (l) x 2.3 in (h)/
91.44 mm (w) x 205.74 mm (l) x 58.42 mm (h)
WEIGHT
ENVIRONMENT
Temperature: 0-45 C/32-115 F
Humidity: Max 85%, non-condensing
ESD: 12,000 volts
---
Contact Us For Details: