Hypercom Optimum L4250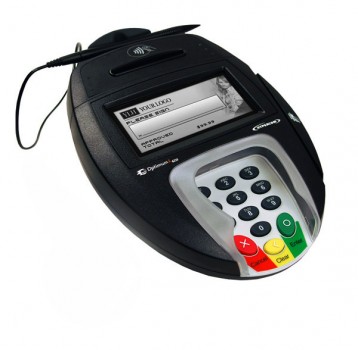 The Optimum L4250 from Hypercom is another superb product that offers speed, reliability and security.
---
More transactions can be completed in a small amount of time with Hypercom's dual-side card swipe system. The flexibility in swiping is coupled with 99.99% accuracy in read rates. The Intel XScale 32-bit processor gives L4250 super speed in processing and transmitting data. It is further equipped with RS-232, USB and Ethernet.
Hypercom Optimum L4250 ensures security from its physical features to advanced software. Its recessed ADA-compliant keypad enables customers to PIN entry privacy.
It is integrated with Message AuthenticationCode (MAC) and Derived Unique Key Per Transaction (DUKPT) key management for maximum security.
If that's not enough, the L4250 enables the seller to save much. It minimizes cost on repair and maintenance with its non-powered stylus, auto-sensing screen protections system and terrapin overlay.
---
Specifications:
PROCESSOR
Intel XScale 200 MHz, 32-bit processor
KEYPAD
Elastomeric: 13 color-coded keys, water
splash-resistant, hard keycaps
Attached privacy shield
Touch screen with screen protector. Screen
protector absence sensor prohibits use
without screen protector in place.
DISPLAY
LCD: 220 x 80 pixels, 16-shade grayscale
Backlight: 100,000 hours (approximated)
CARD READER
Magnetic stripe: Dual-head, bi-directional,
Tracks 1, 2 & 3 (standard)
Chip card: Optional; Integrated, EMV or WIC,
EMV4.1 certified, non-captive, ISO 7816; 3V & 5V
cards; three 5V SAM sockets
Contactless payment: Optional; Integrated;
compliant with ISO 14443 A & B
COMMUNICATIONS
MiniDIN port: RS-232 with power-in;
Client USB IBM-retail with power-in
10/100Base-T Ethernet RJ-45 connector (optional)
USB Host (optional)
BUZZER
4.0 KHz (peak) • 70 dB minimum level at 1 ft.
MEMORY
4MB Flash/ 8MB SDRAM
POWER
AC: 100-240 V, 50/60 Hz
DC: 12 V @ 500mA or 24 V @ 250mA (estimated)
PIN ENCRYPTION
DES: Visa PED approved; PIN-ANSI X9.8,
MAC-ANSI X9.9, Part 1-ANSI X9.24
Triple DES: ANSI X9.52
Key management: DUKPT and
12 master/session keys
FOOTPRINT
8.22 in x 6.06 in x 2.36 in/
20.9 cm x 15.4 cm x 6.0 cm
WEIGHT
ENVIRONMENT
Temperature: 0-45 C/32-115 F
Humidity: Max 85%, non-condensing
ESD: 12,000 volts
RELIABILITY
100,000 hours (MTBF calculated)
COMPLIANCE
UL/cUL listed (UL60950-1)
FCC Part 15B (ICES-003), Class A
CE, C-tick
FCC ID: NVA00002 (RFID)
IC ID: 1204B-00002 (RFID)
---
Contact Us For Details: