Verifone Mx850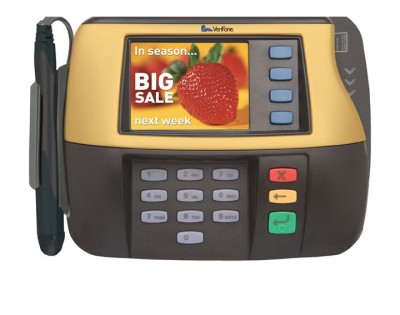 Harsh demands from multi-lane POS environments bring VeriFone in developing the MX 850. Functioning with an excellent processing device, durability and modularity, it is definitely the perfect choice.
---
The MX 850 is designed to work under the intense demand of a multi-lane environment. It is durable and a consumer-facing terminal that makes the work easier.
A familiar interface with an additional tactile support for keypad PIN entry makes easy control over the terminal. The MX 850 handles transactions effectively. Its functionality extends to supporting value-added transactions like loyalty, gift card and other top-up applications. Having a bi-directional mag-stripe card reader, consumers don't need to go through hassle card re-swiping. The VeriFone MX 850 is designed to meet PCI PED, EMV level 1 and 2, Interac certifications and RoHS and WEEE compliance to provide security of the highest grade.
The VeriFone MX 850 provides a clear, legible and attractive interface as it has ultra-crisp, 65,536 color display. MX 850 runs with high-speed processor and bigger memory space to support full in-motion videos and graphics. The keys are laser-etched to preserved label over the terminal's time. An optional touch screen is made up of a specialized glass to protect from scratch marks. A non-mechanical stylus is used to eliminate any electrical failure. An optional smart card reader is also offered.
---
Specifications:
Processor
32-bit ARM9
Operating system
Embedded Linux with VeriFone security enhancements; MX platform
Applications
Form Agent, IBM EFT, NCR EFT, Secure browser
Memory
64 MB SDRAM + 64 MB Flash
Field-upgradeable via USB Flash memory drives
Display
65,536 color, 1/4 VGA, backlit
Graphics
Built-in capability for 16-bit color video
Audio
Multi-tone buzzer
External speaker line-out port is factory optional
Keypad
Recessed for privacy
13 laser-etched tactile keys +
4 screen-addressable ATM-style keys
Touch Screen
Chemically hardened glass
Capacitive technology
Signature Capture
Field-upgradeable option
Stylus Pen
Non-mechanical
Field-upgradeable option
Magnetic Card Reader
Triple-track, bi-directional
Software-controllable LED prompt
Smart Card Reader
Up to 3 SAMS
Software-controllable LED prompt
Factory option
Contactless
ISO 14443 AB certified
Optional, field-upgradeable module
Connectivity / Communications
Cable: supports VeriFone multi-port cables with cable sensing
USB: Device and Host capability
Ethernet: 10/100BaseT
Serial Interfaces: RS-232, RS-485,
IBM Tailgate
Power over Ethernet option
WiFi, field-upgradeable module
Security / Encryption
Master Session
DUKPT
Triple DES
Certifications
PCI PED approved
EMV Level 1 & Level 2 Type Approvals
Interac
RoHS & WEEE
---
Contact Us For Details: