Nurit 3010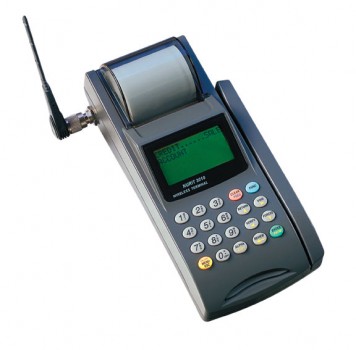 A wireless POS terminal that has advance features. This terminal addresses difficulty retailers are faced with when they are in a temporary area. Retailers who are always on the go can assure that they can use the wireless Nurit 3010 for fast and reliable processing even in outdoor events.
---
The Nurit 3010 ensures fast and reliable transactions. It comes with the latest communication options to be able to work in any situations. Quality can be expected as this device comes from the impeccable Lipman products. The Nurit 3010 can improve retailers' bottom line by providing meticulous and fail-safe features.
This can be used in a small counter space or hand held. It accepts all magnetic stripe and smart cards. Being a wireless terminal allows online transaction and authorization immediately.
Included in the Nurit product line is its good Control Center. This program makes the Nurit 3010 terminal easy to manage. The program supports a wide array of management system which is substantial for transactions in dynamic markets. This specific system can run smoothly with the Nurit 3010 thus making it a great POS terminal. Downloading and data gathering can be handled quickly thus making inventory and financial record more easily.
In addition, the Nurit 3010 supports credit, debit, draft capture, proprietary card processing and Loyalty/gift cards.
---
Specifications:
User interface
128 x 64 pixel graphical backlit display
20-key ergonomic keypad
Menu-driven system
Multi-language font support
Printer
Quiet thermal graphic printer
12 lines/second
Automatic paper feeder
57 mm (2.25 in.) wide paper
8 dots/mm resolution
Magnetic stripe card reader
Vertical swipe
Tracks 1 & 2 or 2 & 3
Communication
Radio
1. GSM/GPRS
2. CDPD
3. Mobitex
4. DataTac
1200 / 2400 bps FastConnect landline modem
Synchronous or asynchronous
HDLC
TCP/IP
Processor and memory
32-bit Motorola EC68000 processor
1 to 2MB Flash memory for software
256KB to 2MB battery backed up RAM for user data, including RAM disk, with six month minimum data retention
Optional features
EMV Level 1 Smart Card reader
Up to four ISO 7816 contact SAMs
Internal PIN pad
Interfaces
RS-232
External PIN pad
Telephone and line
Software
Powerful and proven NURIT Operating System (NOS)
Easy to use SDK and debugging tools
Download of application, parameters and/or NOS over phone, RS-232 or radio (depending on network)
EMV Level 2 Kernel Library available
Same applications run on all Lipman terminals
Approvals
EMV Levels 1 and 2
FCC parts 15 and 68
TBR 21
CE
UL/TUV power supply
Dimensions
H 92 mm (3.6 in.) x W 108 mm (4.25 in.) x D 230 mm (9.06 in.)
Weight
988 g (2.17 lb)
---
Contact Us For Details: