Hypercom ICE 5700 Plus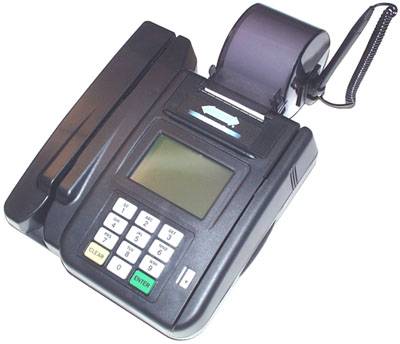 Another innovative product from Hypercom. The ICE 5700 Plus is a check reader that has to a wide range of capabilities.
---
It has a multi-format check reader. It uses a MICR for fast and accurate reading and rejects checks with alterations for maximum security. Further, it supports magnetic stripes and smart cards as payment methods.
To keep transactions secure, it can verify checks through negative files or positive online authorization. It also has intrusions detection.
---
Specifications:
Keypad
Elastomeric: 16 keys, water splash-resistant
Reliability: 500,000 keystrokes (calculated)
Display
LCD: 160 x 80 pixels
Backlight: 50,000 hours (calculated)
Card Reader
Magnetic stripe: Tracks 1, 2 (standard); Tracks 2, 3
or 1, 2, 3 (optional)
Chip card: EMV compliant; ISO 7816;
non-captive; four SAMs (optional)
Communications
Modem: Hypercom FastPOS 9600bps,
2400/1200/300bps – V.29, V.22bis, V.22, V.21,
synchronous (SDLC) and asynchronous protocols
PIN pad port: Modular, RJ-11
Peripheral port: MiniDIN 9 with RS-232 and
12V power pin or RJ-485 2-wire, multi-drop LAN
and RS-232 with no power pin
Printer
SureLoad: "Drop-in" loading, thermal technology;
384 dots per line
Paper roll: 57mm wider, 80mm diameter
Memory
RAM: 1 MB (standard), 1.5 MB (optional)
Power
AC: 85-250 V AC, 50/60 Hz
DC: 24 V, 0.8 A
Security
Physical: Intrusion detection and secure CPU
PIN Encryption
DES: Visa PED approved; PIN-ANSI X9.8,
MAC-ANSI X9.9 Part 1-ANSI X9.24
Triple DES: ANSI X9.52
Key management: DUKPT and 12 master/session keys
Footprint
11.25 in x 7.5 in x 3.25 in/28.58 cm x 19.05 cm x 8.26 cm
Weight
2.25 lbs/0.84 kg approximate
Environment
Temperature: 0-45 C/32-115 F
Humidity: Max 85%, non-condensing
ESD: 12,000 volts
Reliability
100,000 hours (MTBF calculated), not including printer
---
Contact Us For Details: