LinkPoint AIO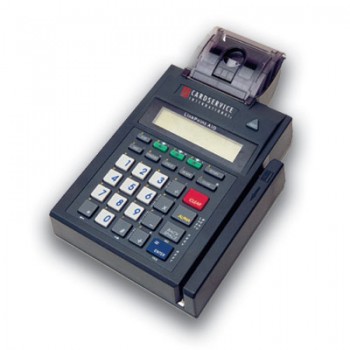 The LinkPoint AIO is the perfect solution for todays market demands. This terminal provides merchants the complete all-in-one answer.
---
The LinkPoint AIO employs technological advancement that responds to the wide range of payment methods as well as applications being used today. It can operate with a full range of payment types, multiple merchant applications and identifications. The calculator function gives this terminal more value. With superb performance, the LinkPoint AIO gives customer quick response time and excellent business for the merchant.
Anyone can learn the LinkPoint AIO easily. It features an intuitive ATM-style interface which makes learning so simple. The 20 character back lit display also allows different options with lesser steps. Operation can be made without complications as the keys are clearly labeled for its function. Flexibility is enhanced by the additional ports found in this terminal. It is compatible to almost all standard peripherals. This includes an optional printer, gift and smart card readers, PIN pads, check readers, bar code wands and other devices.
For security measures, the LinkPoint AIO terminal has password protection which prevents downloads from unknown sources. The thermal printer supplies receipts at a faster speed.
---
Specifications:
Terminal
Memory: 1 MB total; 512K battery-backed RAM; 512K flash. Operating system embedded in flash sector.
Microprocessor: Z180 CPU.
Screen: Two-line, 20-character backlit LCD.
Card reader
Track 1 and track 2, bidirectional; track 1, 2 and 3 reader available upon special order.
Peripheral ports
6-pin DIN port for PIN pads, smart-card readers or
bar-code wands, 8-pin DIN
RS-232 general-purpose port for check readers, etc.
Printer
Easy drop-in paper loading system with a fixed thermal print head. Speed: 15+ lines per second.
Paper: Standard 2 1/4" (58mm) thermal roll (Appleton 1012 sheet is recommended).
Paper Roll Diameter: 1.9 in (48mm) maximum. Open-cover/paper-out sensor. Supports graphic printing capability and 13 international character sets.
Mechanical Life: 15 million lines.
Communications
Modem:
Standard asynchronous/synchronous; 300/1,200/2,400 bps standard Bell 103/212A, V.22 BIS. Telco: Standard RJ-11 modular jacks (2) located on base of unit.
Physical
3.16 in. (80.32 mm) H x 5.86 in. (149 mm) W x 9.66 in. (244 mm) L, 1.25 lb. (0.54 kg).
Net weight (terminal only): 1.51 lb. (0.68 kg).
Net shipping weight (including power adapter): 3.4 lb. (1.54 kg).
Power
100-240 VAC, 50/60 Hz, .8A (switching power supply).
Power consumption: 350 mA, off hook, 2 A during printing.
Power adapter output: 7.5 VDC, 3 A (22.5W).
Environmental
Storage temperature: 32 to 104F (0 to 40 C).
Operating humidity: 10% to 90%, noncondensing.
---
Contact Us For Details: