Hypercom Optimum M4100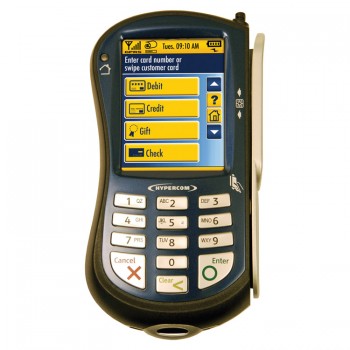 When your business needs a wireless payment terminal, Hypercom Optimum M4100 is the perfect one for you. With this model, you can always cater to your customers needs anytime, anywhere. It opens new opportunities for profit maximization.
---
Hypercom Optimum M4100 is a reliable devise that allows you to process up to 200 transactions for a single charging. It can be customized by installing value-added software to suit your unique needs. It is perfect to support your business' operations since its 32-bit processor makes it fast and efficient.
Optimum M4100 or also known as BLADE is designed to adapt to the ever changing needs of the retail industry. To address this, the wireless terminal can be enhance by numerous value-added software.
---
Specifications:
Processor:
Intel XScale 200MHz,
32-bit processor
Keypad:
Elastomeric: 14 keys; 10 numeric keys; hard keycaps,
water splash-resistant; illuminated
Display:
240 x 320, 1/4 VGA color, resistive touchscreen; 64K colors, LED backlit
Screen Protector
Card Reader:
Magnetic stripe: Tracks 1, 2 & 3 standard; illuminated
Chip card: ISO 7816; 2 SAM sockets,
illuminated entry
Contactless payment: Optional, ISO 14443 A & B
Communications:
GSM/GPRS, WiFi 802.11 G; Class 1 BlueTooth 2.0
Peripheral port:
Client USB; V.90, Ethernet via optional docking station
Printer:
Fanfold (optional): Top of the form detection, integrated, swappable battery
Paper: 52mm x 70 mm sheet size; 200 sheets per pack
Memory:
SRAM: 512KB (standard); 1MB (optional)
Flash: 8MB (standard); 16MB, 32MB (optional)
SDRAM: 16MB (standard); 32MB (optional)
Power:
Battery: Lithium-Ion, 3.6V, 1150 mA hour capacity; Coin, 3V, 5-year
Charging: USB port, wall adapter, docking station (optional)
PIN Encryption:
DES: PIN-ANSI X9.8, MAC-ANSI X9.9, ANSI X9.24 Part 1
Triple DES: ANSI X9.52
Key management: 12 master/session keys and DUKPT
Footprint:
2.73 in x 4.99 in x 1.15in / 69.41 mm x 126.70 mm x 29.28 mm
Environment:
Temperature: 0-45 C/32-115 F
Humidity: Max 85%, non-condensing
ESD: 12,000 volts
Reliability:
100,000 hours (MTBF calculated)
---
Contact Us For Details: