Ingenico i7780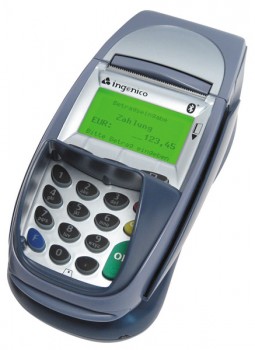 The i7780 is a short-range wireless capable payment terminal. Appropriate for retailers and restaurants that needs centralized operation in a close range configuration.
---
The i7780 is a portable transaction terminal that handles credit, debit, smart card and stored value transactions. Due to its wireless capability, customers can pay anywhere in the business area. Multiple i7780 terminals (maximum of 7) can be configured to set up a LAN system. This wireless LAN is possible with a base terminal linked with an Ethernet connection type.
Tough and secure, as the Ingenico i7780 is VISA-PED compliant and 3DES capable. The smart card reader complies with EMV 4.0. Numerous standards guided the development of the Ingenico i7780 which in turn provides confidence and assurance both for the customer and merchant.
---
Specifications:
Processor
32 bit ARM processor
Memory
2 MB SRAM and 4 MB Flash
Printer
15 lines per second thermal printer
Easy load with end of paper roll detection
Full graphics printing capability
Display
LCD display
128×64 pixels and graphics capability
Backlit
Keypad
18 keys including 3 screen addressable function keys
Backlit for operator convenience
Communications
Spread spectrum Class 1 Bluetooth 2.4GHz
Single base can serve up to seven terminals
V34 modem, transfers up to 33,600 bits per second
Synchronous and asynchronous transmission
Ethernet and TCP/IP
Magnetic stripe reader
Tracks 1, 2 & 3
Smart card reader
EMVCo approved Level 1
UNICAPT 32 EMV Level 2 approved
ISO 7816 1-2-3, Async/Sync. T=0 & T=1
Optional support for up to 3 Secure Access Modules
Security
Visa approved PED, on-line/off-line
DES or 3DES
DUKPT or MasterSession
Secure local and remote software downloading
Connectivity
Ethernet port
(2) RS232 ports
V34 modem
Programming
UNICAPT secure multi-application platform and
& downloading development environment
Programmable in C
Lens
Customizable with logo (option)
Accessories
Spare battery pack, charging base, protective holster
Environmental
Operating temperature: 41F to 104F (+5C to +40C)
Storage temperature: -2F to 158F (-20C to +70C)
Dimensions
Terminal: 20.9 x 9.6 x 6 cm (8.2 x 3.77 x 2.36 in.)
Base: 20.2 x 9.1 x 3.5 cm (7.95 x 3.58 x 1.37 in.)
Weight
Terminal without batteries: 691 gr. (1.52 lb)
Batteries: 176 gr. (6.2 oz)
Base: 211 gr. (7.5 oz)
---
Contact Us For Details: